TRUE GRIT: Edel makes up for lack of size with tenacity, intelligence, technique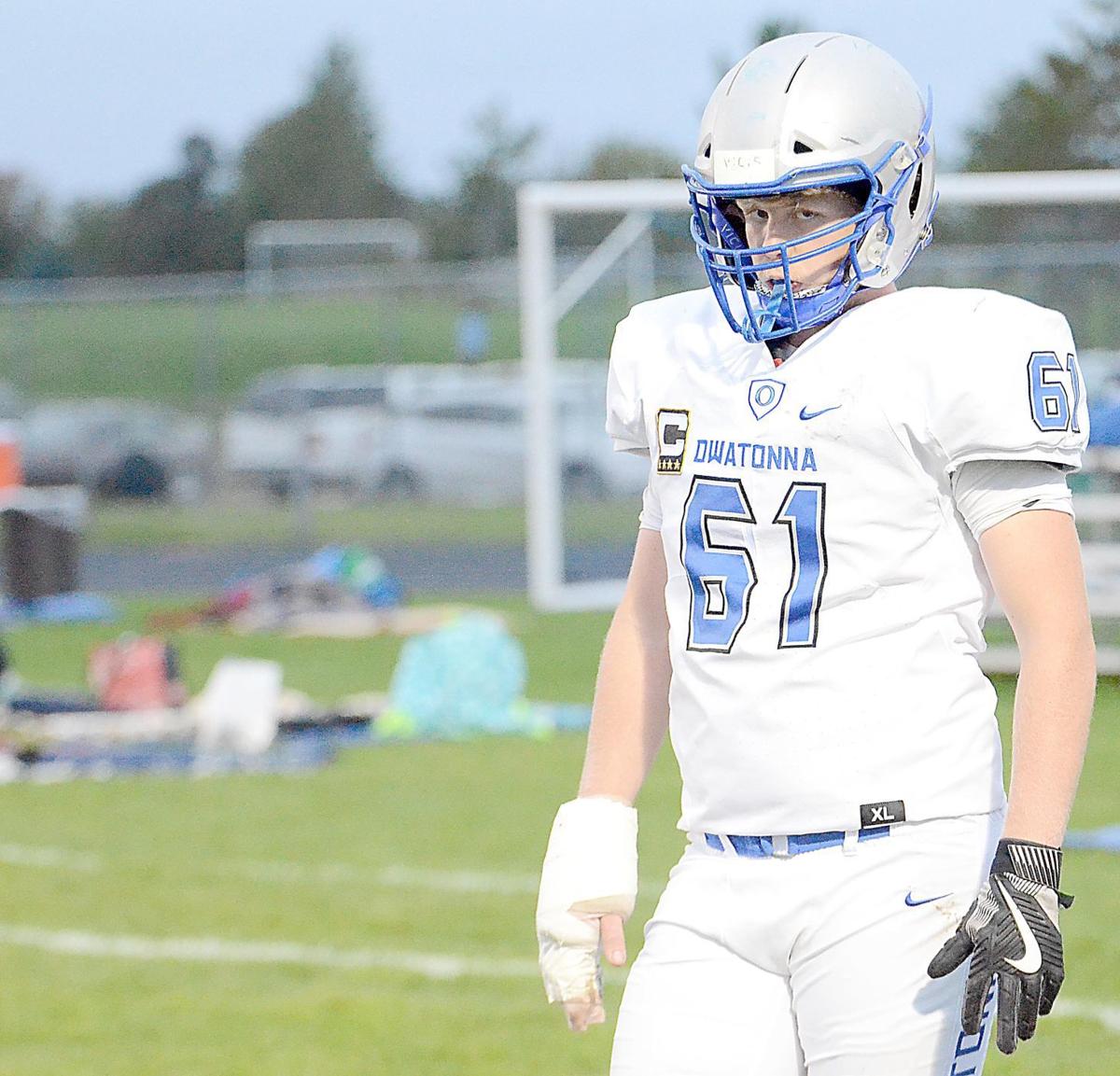 If he's soaking wet and wearing pads, Joe Edel can tip the scales at 215 pounds, maybe.
Put him on the offensive line and stack him up against his sizeable teammates and the senior guard isn't all that intimidating.
That is until the ball is snapped.
Attacking with discipline, leverage and plain old grit, Edel makes his presence known in a big way despite being relatively small for his position. Basically, if he was as big as a bear, no one would have a chance. Defenders are having enough trouble with Edel's 5-foot-11, 205-pound frame as it is.
So where's the edge? Without the ability to simply overpower people with brute size, Edel says his advantage starts between the shoulders.
"You definitely have to go out there with a kick (butt) mindset," Edel said. "You also have to have discipline. You have to have that when you're quite a bit smaller than the guy across from you. You have to find that mental edge."
Edel embodies the type of player that the OHS coaching staff covets when building the interior of their offensive line. Sure, Owatonna has cycled through some big bodies up front during its transformation into a Class 5A powerhouse and sent a number of lineman to the next level, but when it comes to mindset, technique and intelligence, Edel is at the top of the list.
"I think his smarts are one of his advantages," Owatonna coach Jeff Williams said. "But he's also tenacious. To be that size, not that he's tiny, but he's not massive kid, his tenacity and desire to get under people's pads and block for six seconds; he's probably the best at that on our line right now."
No more was Edel's relentless nature on display than in Week 4 when his hand started to throb and immediately swell during Owatonna's first offensive series against Rochester John Marshall. He's not quite sure what happened, but Edel said could barely peal off his glove and grip the ball properly as the long-snapper on the punt team.
Edel knew it was bad right away, but instead of taking himself out of the game, he tightly wrapped his hand, tuned out the burning pain and played the remainder of the game across from the Rockets' massive defensive line without so much as a whimper.
It was only a few days later after finally seeing the team doctor that Edel was officially diagnosed with a broken hand. That's right, as the smallest player on Owatonna's offensive line, Joe Edel played almost four full quarters of football wrestling in the trenches against players almost 100 pounds heavier than him with a fragmented bone in his right hand.
"I knew it was broken right away," Edel said. "But I knew I had to stay in the game for the team. I didn't want to put them in a tough situation so I just stayed out there and grinded it out. I just want to be out there with the guys. I have always been a guy that tries to grind it out. But I saw it from a different perspective and thought if I went down and couldn't go back in, they would have to use someone without much experience on short notice and they would need to find a new long-snapper and I just didn't want to put my team in that position."
It's easy to see why Edel was voted as one of Owatonna's three captains this year. Not only is he willing to play through broken bones and throbbing pain, but he's also willing to play out of position on either side of the ball with zero hesitation.
Last year when 6-5, 255-pound Terrell Conner and 6-1, 250-pound Kadyn Mulert sustained multi-week injuries early in the season, the Huskies found themselves in need of a left tackle on short notice.
Taking snaps at the position for the first time in his career just three days prior to Owatonna's Week 3 game at Austin, Edel was thrown into the deep end and quickly learned to swim. Perhaps it was by pure instinct, or by natural athletic ability — or a combination of both — but Edel more than held his own against the Packers and helped pave the way for Jason Williamson's record-setting seven-touchdown, 266-yard performance.
"Our tackles were pretty dang big and pretty dang good last year, so I was like 'are they really throwing me in here right now?'" Edel said with a grin. "But it didn't prevent me from playing any different. I knew I had to go out and execute. I knew I was smaller, but I had to do it for the team."
Added Williams: "There were some adjustments that had to be made against Austin in our blocking scheme that we really hadn't spent much time practicing and all he needed was a quick little comment from coach Wanous and coach Wiese and we got it blocked up properly and all the sudden Jason is running for seven touchdowns. Joe is a bright kid."
Though Edel is the latest undersized lineman to blossom in Owatonna's system, he's not the original template. Since migrating to the spread formation roughly 10 years ago, the Huskies have trotted out sub-220-pound guards on a regular basis. Chase Wedin weighed no more than 200 pounds and started on the Huskies' state championship team in 2013. And then there was Edel's direct inspiration, Nate Deason. At almost exactly the same size, Edel says he molds his game after Deason, who started two full seasons at guard and helped lead the Huskies to the state semifinals in 2016.
"There was a point during my sophomore year I got pulled up to varsity toward the end of the season and played with Nate Deason," Edel said. "He wasn't very big and I needed to find someone who knew what they were doing. I am modeling myself after Nate and I knew he wasn't very big, but he always came out with an edge and he inspired me to go out there and work my hardest. Being smaller than everyone, you just have to make sure you stay low and fire off the ball and know what you're doing."
Reach sports editor Jon Weisbrod at 444-2375, or follow him on Twitter.com @OPPJonW