ALL THE INGREDIENTS: Super talent, great coaching, rich tradition; Owatonna, Northfield provides tons of intrigue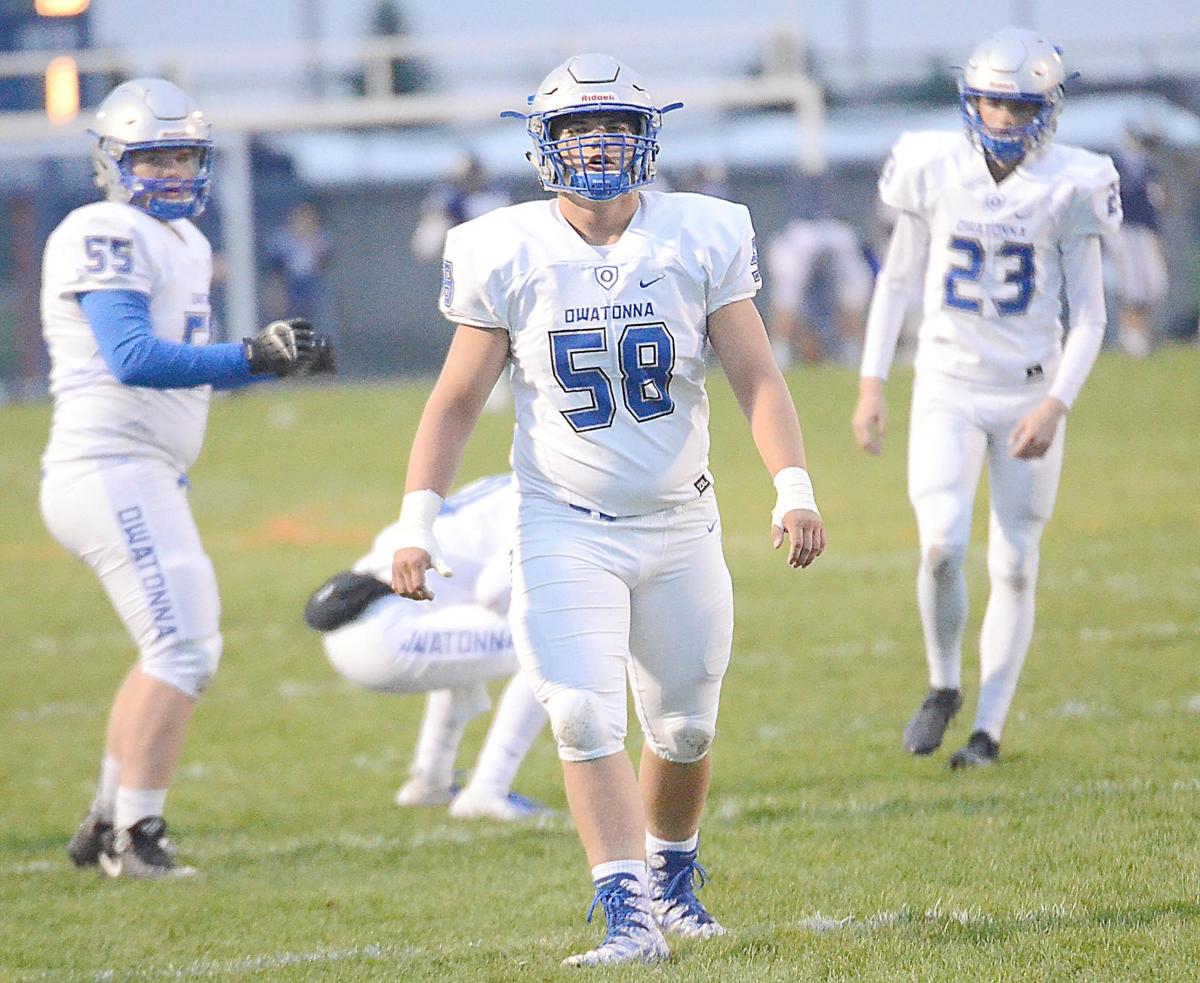 All roads for top-ranked Owatonna and Northfield lead to Friday night.
Both high-powered programs are the bastions of their own playoff destinies and need only to win their final two games to wrap up a No. 1 seed in the Section 1-5A tournament and secure a Big Southeast District Red Division championship.
Playing in a top-heavy 12-team league that features only a small handful of state championship caliber teams, the Huskies (6-0 overall, 3-0 Red Division) and the Raiders (5-1, 3-0) offer a rare equivalent in both a contemporary and historical context.
Both have longtime and successful head coaches and have qualified for the state tournament multiple times in the "modern era." Both lean on aggressive man-to-man defenses and can beat you in a number of ways on offense.
And then there are the athletes.
If one were to compile a list of the most talented players in the Red Division, it could be argued that Owatonna and Northfield boast the top three individuals on the ledger.
There is the ever-dangerous Jason Williamson who is currently third all-time in state history in rushing yards and is headed to the University of Minnesota next year to play football. After spending most of Week 1 on the sideline to rest an injury sustained in the summer, the senior has amassed 1,107 yards and 15 rushing touchdowns in essentially six weeks.
Like every other team in Class 5A, the Raiders simply can't counter with a player of Williamson's caliber, but they can come as close as any opponent on Owatonna's schedule.
Northfield's answer to Williamson is formidable receiver/running back Mitchell Stanchina. The senior is a matchup nightmare as he blends a dangerous combination of size (6-foot-4, 205 pounds) and speed (4.5 seconds in the 40-yard dash). He's second in the district behind Williamson in touchdowns with 14 and has accumulated a balanced 874 total yards of offense (430 rushing, 444 receiving). He's one of the rare players that needs to be accounted for no matter where he lines up before the snap.
It could be in the backfield, it could be in the slot or it could be out wide, the Huskies will have their eyes on No. 42.
"They will run him a little in the backfield, but they really like getting him out into the defensive back and linebacker areas and create mismatches," Owatonna coach Jeff Williams said of Stanchina. "They like to get the ball in his hands and let him make things happen. That's a long tradition in Northfield of when they have super athletes like him, they find ways to get the ball to him and have him make plays. Stanchina does present a matchup problem because he is so tall and so fast."
The second part of Northfield's two-headed monster is tailback Jim Vitito. Standing roughly 5-11 and weighing 195 pounds, Vitito is tough to bring down, but also can burn a defense in the open field. He runs a sub-4.7 in the 40-yard dash and averages 7.4 yards-per-carry (608 rushing yards) to go with nine touchdowns.
"He is a very versatile kid," Williams said. "He's a very nice running back. His older brother was a good one and he's similar to him in that regard. He's a tough runner and can get the extra yards."
First-year starting quarterback, Mason Zick, towers over the offensive line at 6-7 and has thrown for 1,020 yards and 10 touchdowns. In the trenches, the Raiders don't have a wealth of depth, but their starting five is healthy and has helped pave the way for a team that's averaged 200 rushing yard per game.
Northfield handed the Huskies their only defeat of the 2017 season and did so by loading seven defenders in the box at all times and locking up Owatonna's receivers on the outside in man-to-man coverage. The Huskies failed to score 30 or more points for the only time all season in the last-second 21-17 defeat and have prepared for the likelihood that Northfield will stick with what worked last season.
"They did what we do," Williams said. "They dared us to try and throw the ball, but they said we are bringing seven guys, so you better protect for seven and they were able to get pressure on our quarterback and eat up the running game a little. We have been a little more cognizant of how do we pass-protect the seven guys in the box and zero coverage. Do they run a lot of other things defensively? Yes. Do they have other coverages other than zero? Yes. Are we prepared? Yes, but with an emphasis on what they did last year and let the chips fall if they decide to do something else."
THE REVENGE FACTOR: With the season stretching into its seventh week and the weather getting colder seemingly every day, Williams said the extra jolt that comes with preparing for a team as good as Northfield has re-energized his team.
For players like Joe Edel that were a part of last season's heartbreaking loss, the chance to exact a little revenge also adds some extra motivation as the Huskies slog through the soggy and wet conditions at practice.
"I think that gets all of us fired up and trying to go out there and prove something," Edel said. "By all means Century was a really good team, but this is the real challenge and I think everyone from the players and coaches is hungry. I think we all realize that we need to go out there and show them something."
A LOOK AT THE NUMBERS: Owatonna is tops in the Red Division in both scoring offense (45.7) and scoring defense (9.2). The Huskies have allowed six offensive touchdowns in 24 total quarters and have held teams to 3.2 yards-per-carry and 34.7 percent through the air.
During its five-game winning streak, Northfield has scored no fewer than 29 points and currently sits second in both scoring offense (34) and scoring defense (16.5).
PITCHING IN: The Owatonna football team has partnered with Randy Shaver's Tackle Cancer organization and will be taking donations at all entrances leading up to the game at 7 p.m.
WEATHER FORECAST: Temps are expected to peak in the mid-40s at game time and will likely approaching the freezing point by the fourth quarter. There is a almost no chance of precipitation.
UNIFORM WATCH: The Huskies will ditch the road white on white combination and sport black or blue jerseys with blue or white bottoms. Against Austin they went black on white. Against John Marshall they went blue on blue.
Reach sports editor Jon Weisbrod at 444-2375, or follow him on Twitter.com @OPPJonW