The rain throughout Tuesday could have proved difficult for Randolph softball, and not because it had a game scheduled, or a future contest was in danger of postponement because of a soggy field.
No, the potential difficulty was because Randolph coach Dennis Trom felt his team needed to sharpen a few details of its game before Wednesday's Section 4A playoff matchup against Mayer Lutheran, and needed to do so outside on the field.
Turns out, those worries were unfounded, because around this time of year, not even rain, sleet or snow can distract the Class A No. 5 Rockets from returning to the state tournament.
"Then we ran inside to get some hitting in," Trom said. "They were all just, 'Go, go, go.' We're starting to hit our stride here."
That was clear Wednesday, when top-seeded Randolph rolled past fourth-seeded Mayer Lutheran 16-0, invoking the run rule in the bottom of the fourth with sophomore Megan Erickson's two-out grand slam capping off a 10-run frame.
After not scoring in the first two innings, it appeared a battle between Randolph sophomore pitcher Morgyn Otte, who allowed only one hit and struck out eight in the four innings, and Mayer Lutheran freshman pitcher Maddi Saulsbury was underway.
Then, after one turn through the order, Randolph hitters had seen enough of Saulsbury to score six runs in the bottom of the third.
Then, when the Crusaders (6-15) made a switch to senior Anna Ausmus in the circle to start the fourth, the Rockets (20-2) piled up an additional six runs before Saulsbury re-entered the game with the bases loaded to surrender the grand slam to Erickson.
"If the pitcher is too slow or too fast, it takes about one time through the batting order and then everyone adjusts," senior Andrea Splichal said.
That's due to an intensified focus, Trom said.
"Our coaches talk a lot about having a target on our backs now, and I think it's kind of setting in on everyone now that we're the team to beat," sophomore Mackenna Otte said. "Everyone's coming in a lot more focused and prepared."
Trom said there wasn't much need to remind his team that the postseason requires an extra level of attention to detail, while Splichal said she didn't need to either as one of the team's four seniors.
"Everyone knew what had to happen," Splichal said. "(Going to state) last year helped prepare us a lot to just know how things need to roll to get it done."
Now, Randolph is set for a potential rematch with second-seeded Kimball (13-7), which is slated to play third-seeded West Lutheran (11-7) Thursday afternoon.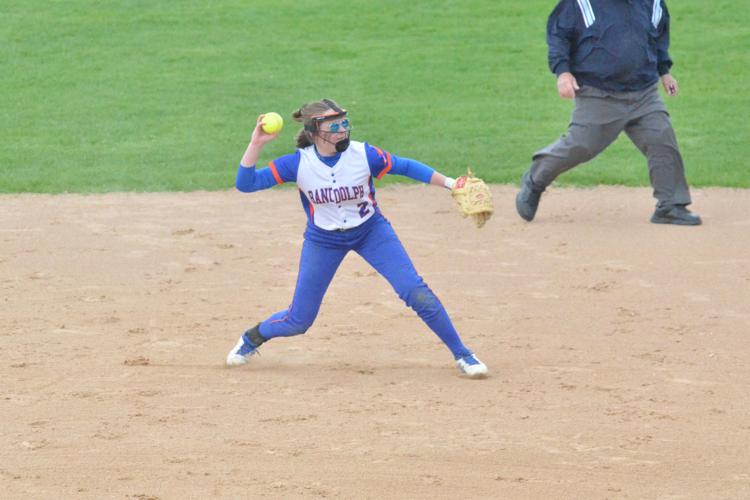 In last year's section tournament, the Rockets lost to the Cubs in their first matchup before winning three straight elimination games, including the last two against the Cubs to secure the program's first trip to the state tournament.
"That's the only game I really remember," Otte said. "I don't even remember anything from state, even. It was just playing Kimball. I think they're going to want to beat us more than any other team, because we knocked them off after they beat us once last year. I think we all have to really focus."