Jacob Halvorson was starting to grow restless.
A few months removed from his first full season of junior hockey with the NA3HL's New Ulm Steel, the 2018 Northfield High School graduate was wondering what was next.
Then, in May, he received an invite to a pre-draft camp May 18-19 at the Bloomington Ice Garden for the New Mexico Ice Wolves, who will start its inaugural season in the North American Hockey League in October and will most likely do so with Halvorson, who signed a contract tender with the team after he impressed coaches during the two-day camp.
"I went and thought I played pretty well, and they thought so, too," Halvorson said. "They liked what they saw, they told me, and they offered me a tender."
The signing was announced by the team May 28, and was the first contract tender announced by the Ice Wolves. Halvorson initially planned on attending the Chippewa Steel's pre-draft workout, but after New Mexico's contract tender was available, Halvorson signed, making him ineligible to try out for other teams.
The 6-foot-2 forward simplified his pre-draft camp performance to making simple, smart plays, although he was a part of a bevy of scoring chances while dishing out a handful of assists and scoring a couple goals.
"He is a big body power forward who gets around the ice very well," Ice Wolves coach Phil Fox said. "He was scoring in camp and making plays every time he was on the ice. He has tremendous character and does things the right way on and off the ice. We look forward to having his leadership qualities in the room."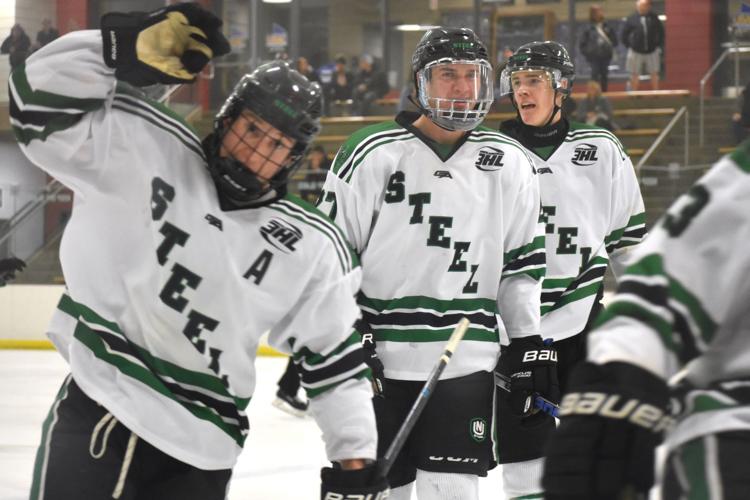 New Mexico was approved for an NAHL team in February to push the league to 26 teams, while the Ice Wolves will compete in the seven-team South Division.
Halvorson still has some work to do in order to be part of that, as he and the other 16 players awarded contract tenders, in addition to the team's 15 draft picks, will travel to Albuquerque for training camp from July 24-27, where the active roster will be trimmed to 25 players.
Halvorson figures to have an advantage, since he was offered the contract tender before the June 4 draft.
Other contract tenders were given to Tom and Joe Paradise, the grandsons of Herb Brooks, who played for Mahtomedi, as well as other Minnesota products, including Spencer Rudrud (Eden Prairie), Keegan Langefels (Eden Prairie), Cam Lantz (Greenway) and Creighton McMahon (Spring Lake Park), while the team drafted Jackson Wille (Forest Lake), Mitchell Becker (Rogers), Luke Beerman (Shattuck-St. Mary's) and Lucas Newman (Rochester Lourdes).
That might be because the team's coach and general manager, Fox, grew up in Stillwater before playing college hockey for Northern Michigan and professionally for the Central Hockey League's Texas Brahmas and Allen Americans.
His assistant coaches are Kyle Follmer, a St. Paul native, and Keenan Kelly, who spent last year as an assistant coach for the NAHL's Austin Bruins in Minnesota.
If Halvorson makes the team, it will be a step up in competition from what he experienced last year in the NA3HL, considered a tier below the NAHL, where he scored 19 goals and dished out 23 assists in 47 games.
"I'm pretty excited," Halvorson said. "It's definitely going to be a jump, but after a year of my body developing more and my body maturing, I feel like I'm ready for the next step."