At the end of the day, Thursday needed to unfold nearly perfectly if it was going to end with Northfield girls track and field claiming its second straight Big 9 Conference title.
After being projected to come up 14 points short to Rochester Century based on seed times and distances, the Raiders sliced the gap to only two points, but were unable to fully overcome the Panthers, who ended up with 209 points compared to 207 for second-place Northfield.
Mankato East slid into third with 178 points, Red Wing claimed fourth with 166.5 points and Mankato West finished fifth with 140 points in the 12-team field.
"We weren't necessarily supposed to contend for that meet, but I thought the girls did a great job of pulling themselves in and making it close," Northfield coach Karl Viesselman said. "There were about 30 different ways we could have won the meet, but I thought it was remarkable for us to get that close."
Rochester Century made it a clean sweep by also claiming the boys title with much more room to spare thanks to 234.5 total points to distance itself from second-place Mankato West (185) and third-place Mankato East (174.5). The Northfield boys finished 12th with 45 points.
For the boys team, junior Eli Bowman provided a significant amount of the scoring thanks to his second-place finish in the shot put with a top throw of 49 feet, 6.75 inches, and an eighth-place finish in the discus thanks to a heave of 126 feet, 9 inches.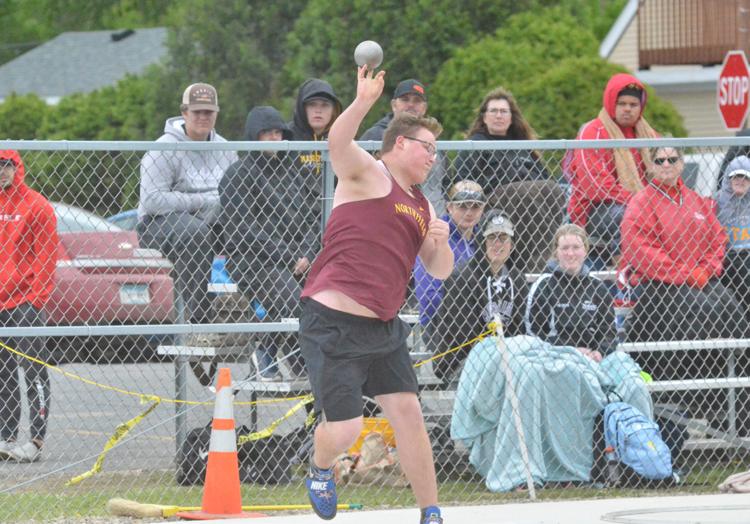 "He had a great day there," Northfield coach Tyler Balow said. "He threw just under his season best (in the shot put), and we're hoping he can turn that into a good day at sections as well."
Sophomore Joshua Charlton was the other Raider to grab a top-eight individual spot, with a sixth-place finish in the long jump, courtesy of a finals leap of 19 feet, 6.25 inches.
That was about 10 inches shorter than his season best, although he had a pretty good reason for that.
"He's been battling through some injuries the past few weeks but showed some toughness and still competed," Balow said. "He got a huge gash on his leg, spiked himself actually, in the first three jumps of the day but still finished out the finals."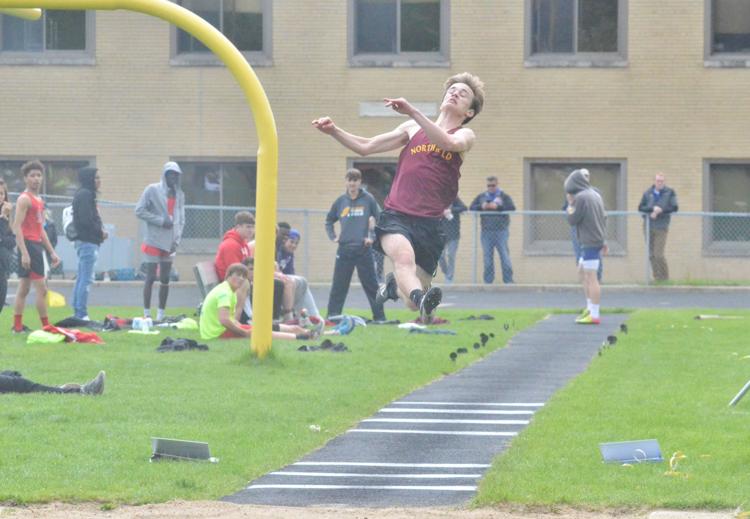 On the girls side, senior Emma Roethler muscled her way to individual titles in the shot put and the discus, winning the first with a distance of 39 feet, 5 1/2 inches, while winning the second with a throw of 125 feet, 2 inches.
Senior Rachel Kelly also finished seventh in the shot put with a throw of 32 feet, 8.75 inches, and Shelby Svien claimed fifth in the discus with a mark of 101 feet, 5 inches.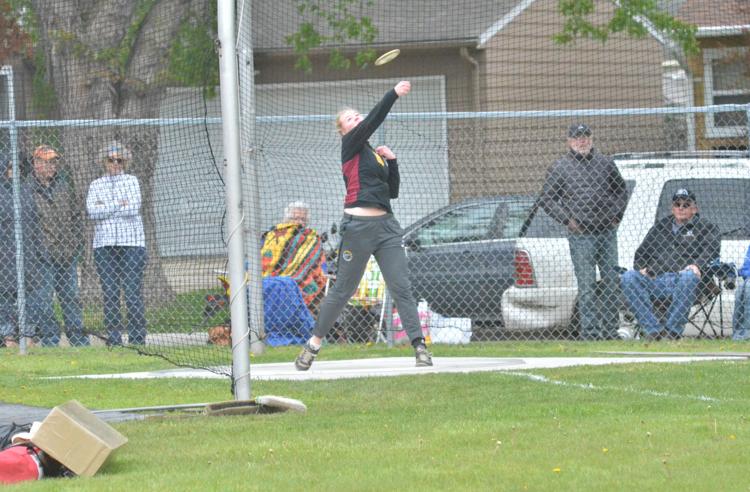 Senior Elizabeth Acheson claimed a pair of titles herself, first winning the 400-meter run in 57.65 seconds, while Clara Lippert snagged third in 1:00.76 and Ella Palmquist finished seventh in 1:03.37. Acheson also anchored the winning 1,600 relay, which posted a time of 4:02.88, three seconds faster than when the Raiders won the event last year.
Acheson was joined in that relay by Lippert, Palmquist and senior Grace Acheson.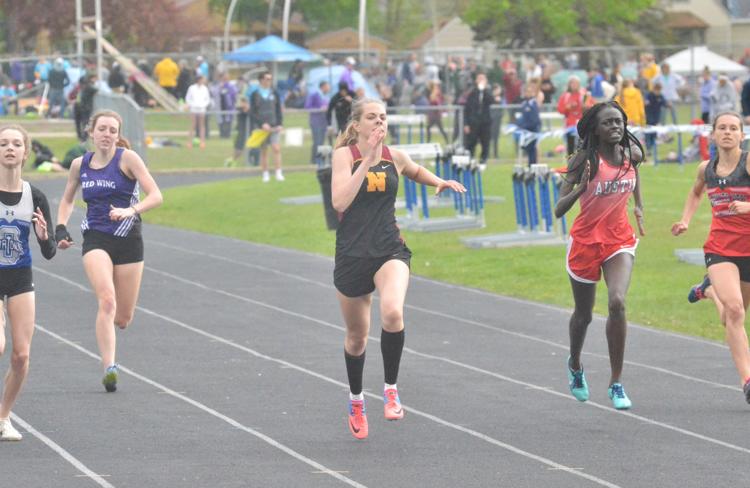 Grace Acheson earned points in three other events, finishing third in the triple jump, while also jumping up into seventh in the 100 hurdles in 16.91 seconds and motoring to fourth in the 300 hurdles in 48.80 seconds. Grace Neuger also snagged eighth in the 100 hurdles in 17.18 seconds, and Mallory Godfrey powered to fifth in the 300 hurdles in 49.09 seconds.
In the 300 hurdles especially, Viesselman says Grace Acheson and Godfrey could qualify for the state meet, with Acheson running nearly the same time she did two years ago when she qualified in the event. 
"Our hurdlers weren't necessarily supposed to score any points and they came up big in all their events," Viesselman said.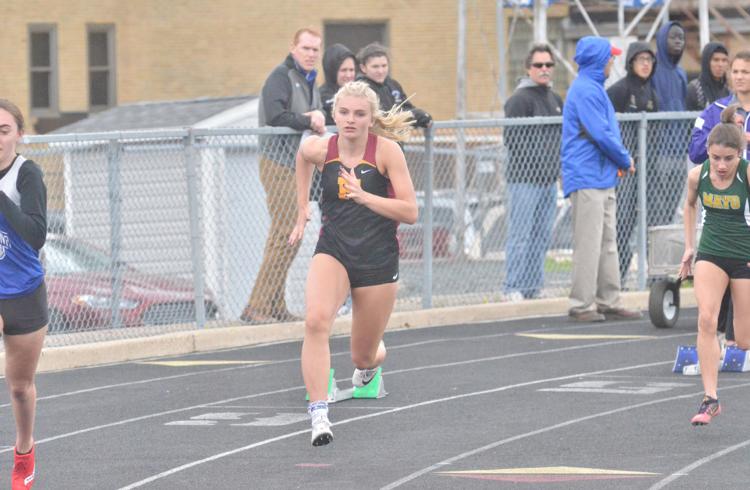 The Raiders received a load of scoring in the pole vault as well, with senior Karissa Ricks soaring to third with a clearance of 10 feet, 9 inches, senior Kasey Mohlke settling into fourth with a clearance of 10 feet, 3 inches, and freshman Sidney Petersen claiming seventh with a clearance of 9 feet, 3 inches.
"I've been telling (Kasey) for about two weeks that she was close to going about a foot higher," Viesselman said. "That's just kind of the nature of that event."
Ricks, who didn't vault in the 10 days leading up to the conference championships because of an injury, might need a similar jump up if she hopes to return to state for a third straight year. With only two automatic qualifying spots, she faces some stiff competition, with a pair of Section 1AA vaulters also capable of clearing 11 feet.
The standard for automatic qualification to the state meet, regardless of section place, is 11 feet, 1 inch, while Ricks' best clearance this year has been 11 feet.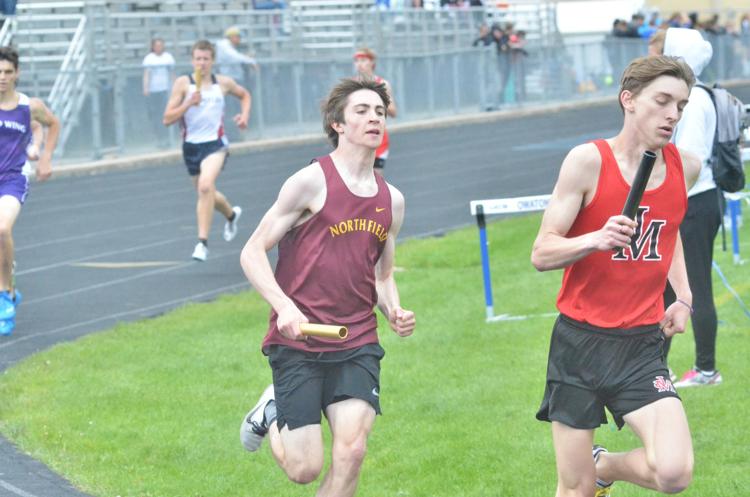 If Ricks does reach that mark, chances are she won't be alone in St. Paul, with a number of other Northfield girls with good chances to either finish in the top two at the Section 1AA championships, which take place Thursday and Saturday at Lakeville South, especially since Viesselman's lineup construction now centers around qualifying as many athletes as he can.
"Our goals shift when we go to sections," Viesselman said. "In the conference we want to score as many points as we can, so we get everybody in as many events as we think we can score in. When we go to the section meet, now our goal changes and we just want to get as many people to qualify for state, so we try to focus them and give them a shot at their best event."