The decision to declare a State of Emergency wasn't a difficult one for the Faribault City Council, nor for Rice County, Friday. A look around at parts of town and the surrounding county made it ever apparent that work would need to be done.
A Thursday storm, confirmed by the National Weather Service Friday to have produced tornadoes in the area, made a mess of parts of the city.
Faribault Municipal Airport was mangled. Power lines and trees were knocked down and blown over across neighborhoods. Some unlucky homes were damaged, whether by swirling debris, fallen objects or sheer wind force.
"(The emergency declaration) will allow us to basically start taking action on getting repairs and everything done in a much quicker fashion," Faribault City Administrator Tim Murray said. "Ultimately, this helps us meet the threshold for disaster relief; we want to be covered that way, too."
According to Faribault Fire Chief Dustin Diesnt, the city had received good reports of tornadic activity in Waterville and Morristown, before the storm arrived in Faribault, which allowed emergency personnel to get the sirens activated and residents properly warned.
Just after 1:30 p.m. on Friday, the Twin Cities National Weather Service confirmed that a tornado had touched down near Faribault on Thursday evening, but for those looking at Faribault Municipal Airport, it was never in question.
A call came in at about 6:40 p.m. Thursday reporting a potential tornado at the airport. Very soon after, police had Hwy. 21 closed off. Debris had been blown across the road, buildings were destroyed and planes were tossed.
Minnesota Sen. John Jasinski, who represents Faribault and surrounding areas, was at the airport surveying the damages Friday. Jasinski said he had been to Medford and Morristown, but the airport had the worst damage he'd seen.
Faribault Police Captain Neal Pederson said the damage at the airport was the worst in town.
"Throughout town, there are mostly branches and power lines," Pederson said. "Some of the industrial park here had some damage, but by far the worst is here."
Mary and Ron Ovans were out Friday afternoon, trying to begin the cleaning process.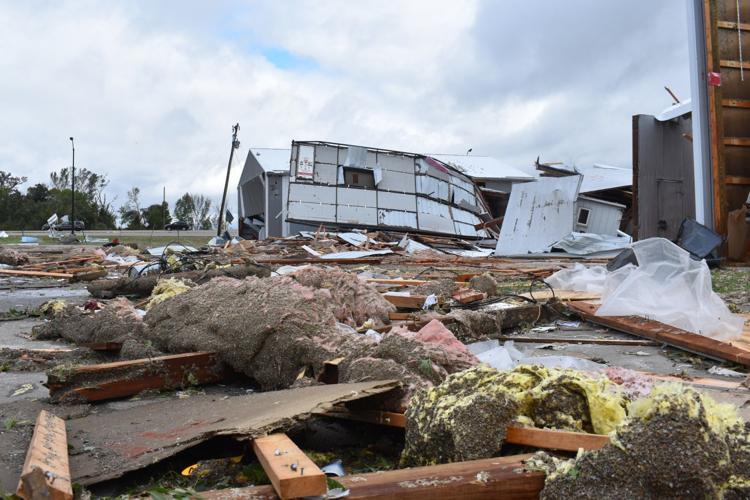 Their plane, a 1958 Bonanza, had been completely flipped over. Their hangar, which they built over 15 years ago, was destroyed.
Ron said they purchased the plane about seven years ago. He was at his home in Webster when the storms hit. As soon as he heard that there was damage near Faribault, he made his way down, "hoping against hope" that his plane had survived the night.
"It was a beautiful machine. I loved it," Ron, a retired Air Force veteran and Delta Airlines pilot, said. "Stuff happens. At least no one got hurt out here. You can always get other things."
No one was hurt at the airport and no fatalities or major injuries have been reported in the area as a result of the storm. For all the property damage done, the process of cleaning up and repairing the airport is only just beginning.
While owners like the Ovans were allowed in to begin assessing damages and cleaning up on Friday, the heavy lifting likely won't begin until Saturday.
"At least for today, we're not allowing big construction equipment in. Owners can get things out of here on their own," Pederson said on Friday. "Tomorrow, teardown and construction can start. Today's a little windy yet to be messing with sheet metal."
Pederson asked that people don't drive by and look at the damage, as it is causing traffic congestion.
"Just for safety's sake, we ask the people that don't need to be out here not to come out here to look… We don't want to have any accidents from people traveling needlessly through here," he said.
He added that the city has been logging names of people that want to volunteer at the airport if the opportunity arises. At this time, however, volunteers are not needed, as most of the work will require heavy machinery.
Sue Allen stood in her kitchen at 426 1st St. NW in Faribault and watched the tree in her front yard fall into her house around 6:20 p.m. Thursday night when the storm hit.
"It was surreal, like it was in slow motion," said Sue.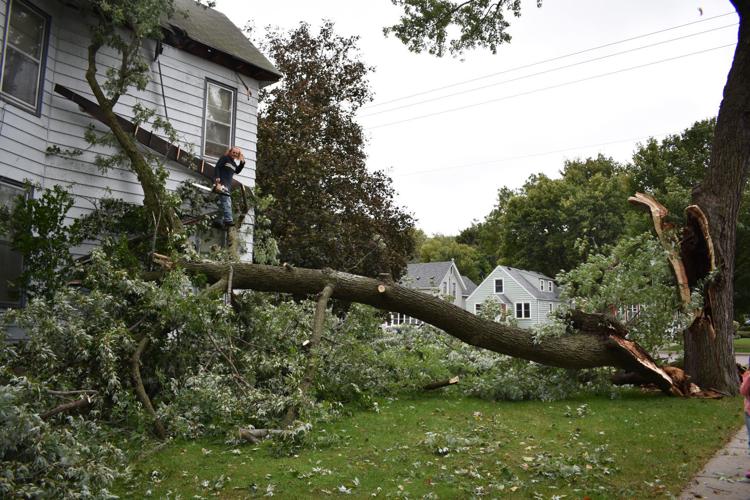 She and her husband, Chuck, were both in the house at the time. A window shattered upstairs, and they now need new siding and a roof as the fallen tree took out a corner of their house.
Friends of the Allens came to their door to help clean up the damage at 7:30 a.m., and Brian Bauer, who lives in the area, offered to cut down the branches and make sure the tree didn't damage the house any further. The Allens weren't the first stop for Bauer, who planned to check out other damage later.
"It's amazing how nice people can be," said Sue.
If he were in a similar situation, Bauer considered what he might want his neighbors to do to help him.
"I figure the least I could do is go around and help people," said Bauer.
About one block south of the Allen house, Damon Owen rested in his home at 501 Division St. W after getting 12 staples in his head. The injury occurred during the storm Thursday night when a tree in his front yard fell over and pinned him and Jonathan Bunton beneath it. Bunton, who has 47 stitches as a result of the incident, was still in the hospital recovering Friday morning.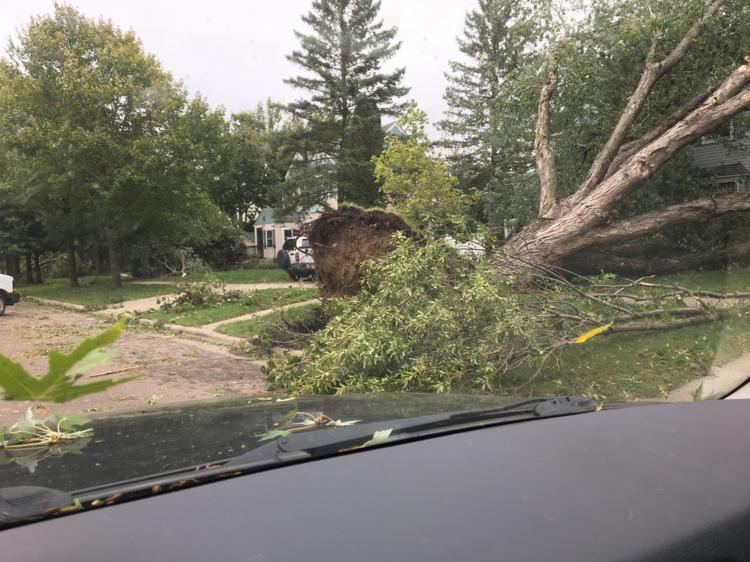 Owen said they called 911 after managing to get out from beneath the tree, but lines were busy. As a result, the pair drove themselves to the hospital.
Reporting, cleanup and repair efforts were underway all over town by early Friday. Volunteers are ready to go, according to city leaders, and staff is prepared to communicate with state and federal officials on potential disaster aid.