At a Dec. 18 presentation to the Northfield Economic Development Authority, urban planner Joe Minicozzi asked the question, "What does Northfield want to be when it grows up?"
As part of an effort to plan development strategically, the EDA commissioned Urban3, a consulting company specializing in helping cities grow their tax base and community design, to take a look at Northfield's land economics. The findings, presented by Minicozzi, of Urban3, showed that Northfield might benefit from developing up, not out.
Northfield properties with the highest tax value per acre are located, primarily, in the downtown area, largely due to its historic buildings and concentration of shops and restaurants. And though downtown takes up less than 2 percent of the total city area, according to Minicozzi, it generates 5.6 percent of the city's tax value — meaning that it's roughly four times more productive than the rest of Northfield.
Urban3's research noted a trend in Northfield, consistent with findings in other cities, that while many would expect large retail stores like Menard's or Target to generate the biggest tax value per acre, this typically isn't the case.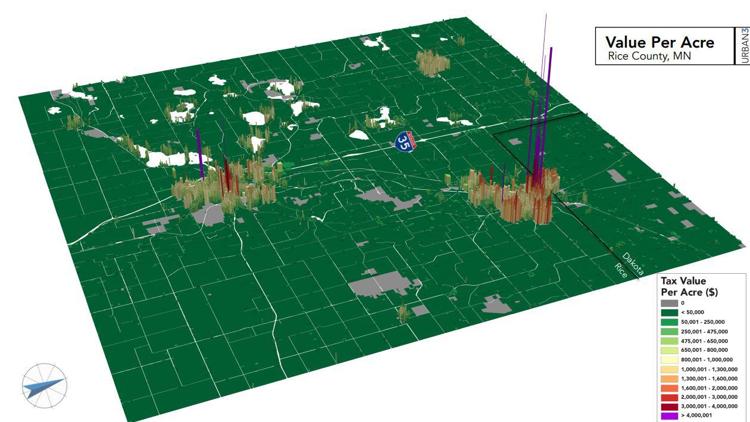 The Holland Building on Division Street, which currently houses Heartwork Yoga Studio, Blue Sage Day Spa and other businesses, generates a taxable value of over $13 million per acre — equal to about half the value of the 15-acre Bloomington IKEA. No other Northfield building has a higher tax value per acre. And just a 4-acre block of Division Street has the same tax value as the Faribault Walmart, at 17 acres.
"Your downtown is your golden goose, but you need to feed it," said Minicozzi.
If Northfield wants its tax base to grow, said Urban3's report, the city is better off developing downtown or creating similar areas, with many businesses, offices and residences in a small space rather than bringing in singular establishments that take up more acreage.
EDA members took this advice to heart at its Dec. 20 meeting. Board member Mike Strobel even suggested a few target locations for future development. 
Though the city's parks are non-taxable land, Strobel noted that by building high-density housing around the perimeters, the city can still earn revenue from the area while addressing a shortage of affordable housing.
"As a person that's lived here for 35 years, I don't know that we have traditionally looked at building up as a viable alternative," said Strobel. "If we don't build up, we aren't sustainable."
Minicozzi presented several hypothetical development plans for the 500 acres of undeveloped land in the city's northwest — which city leaders are currently studying. Of the projected scenarios, the combination projected to yield the highest tax value included mostly single- and multi-family homes, along with mixed-use buildings. The site's current tax value sits at $8,000 per acre, which Minicozzi said is well below its potential value.
The land around St. Olaf is also under its potential, in terms of tax value. The campus itself is relatively concentrated, said Minicozzi, but much of the surrounding area is prime for the types of businesses that attract students, especially given the campus' distance from downtown and the barrier created by Hwy. 3.
The EDA has yet to make any firm plans based off Urban3's research, but Economic Development Coordinator Nate Carlson noted that the information had the potential to shape future development.
"Having this at the forefront — efficiency and land use — is going to be key in our policy decisions going forward," said Carlson.
Mayor Rhonda Pownell also noted that the planners will likely use Urban3's research as part of the decision-making process in the northwest development area.