Connecting patients with essential public services and ensuring they are able to live comfortably are the ideal result of any health situation.
In Northfield, the Community Paramedic Program is ensuring patients are able to access that help.
Community paramedics are referred to patients by primary health care providers and are meant to provide health care services, including at home, work or other convenient place. They connect patients with community services like transportation or food assistance. Community paramedics are considered different from paramedics in that they have more training and have a state certification codified in Minnesota state statutes. They provide health screening assessments, lab specimen collection, medication management, wound care, chronic disease education and monitoring, home safety assessments, pre-surgical screenings, post-discharge followup care and other services.
Those involved in the program has been seeing Northfield patients for 2½ years. The Northfield Hospital referral program, however, began last October.
Northfield EMS has five community paramedics on staff. In addition, one is going through training and two are considering the option.
"The community paramedic goes back to school for 12 credits or so, and then they have to engage in nearly 200 hours of clinical training," said Christopher Matek, assistant chief of emergency medical services at Northfield Hospital and Clinics.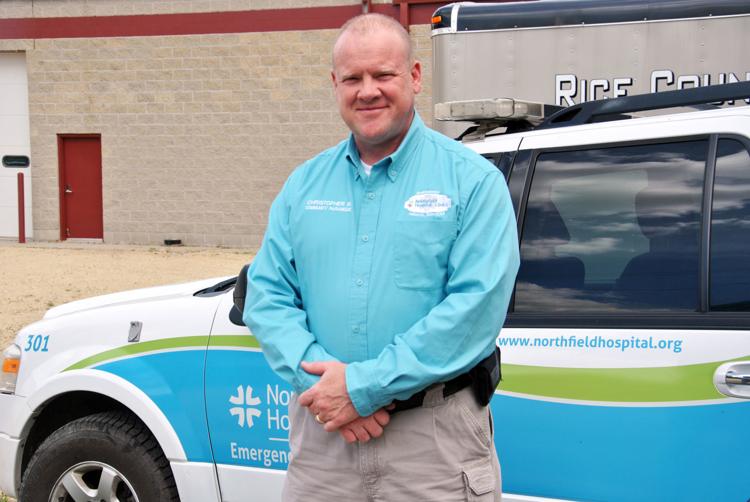 In 2011, the Community Paramedic concept was brought to the Northfield Hospital. Years were spent reviewing the program, building infrastructure and completing records management and job description work. In 2015, a HealthRise grant was received to utilize health care services to prevent patient deterioration and readmissions, which benefited the Community Paramedic Program.
"We're in a pretty good stage right now," Matek said.
"It's a very interesting, multifaceted and multi-use program. We're not pigeon-holed in any one area. We have a pretty wide scope, but it also means that we work with a lot of different people."
The number of patients Northfield Community Paramedics see is sporadic. Some months are thin. Matek considered the first part of May was busy before it lightened late in the month.
To Matek, one of the difficult parts of the program is that it has not been in place for long. The first pilot program was in 2008.
"One of the difficult aspects of it is it's a brand-new thing, so not a lot of people are aware, nor are a lot of people able to say, 'That's what they do and that's what I want to use them for,'" Matek said. "Because we are jacks-of-many trades, it's still kind of a feeling-out period."
HealthFinders Executive Director Charlie Mandile leads an organization that works with community paramedics to coordinate care for patients with chronic conditions.
"It's a great program," he said. "Help is really a lot about what happens in the home and the community, and community paramedics are a great resource to connect with that setting."
To Mandile, community paramedics offer a level of expertise "quite helpful" in a home setting, such as for patients with complex needs.