(Updated on Monday to add more details of the visit.)
U.S. Sen. Al Franken was deep in the heart of Minnesota farm country on Saturday night to hear from local residents who have been hit hard by the severe propane crisis.
Franken (D-Minn.) visited Shepherd's Way Farms in Nerstrand for a kitchen-table discussion with local farmers, state officials and local organizations, and made it known to all that he was on a fact-finding mission.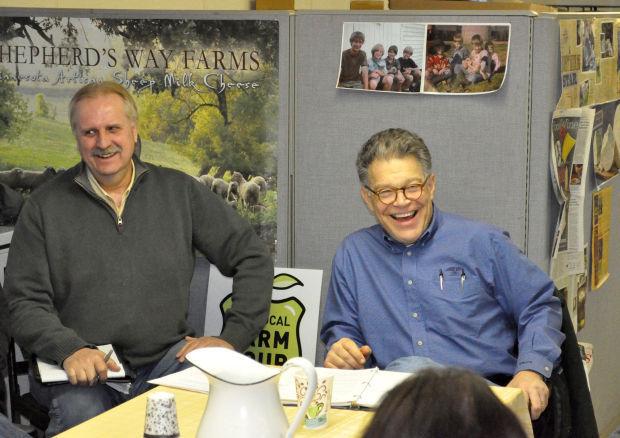 "I really came to hear about what you are experiencing," Franken said in his opening comments to the 15 people who braved the cold to take part in the discussion. "Are producers taking advantage of people's anxieties and trying to profit from this terrible situation? That's what I'm trying to find out."
Franken heard from hosts Steven Read and Jodi Ohlsen Read, Commerce Commissioner Mike Rothman and members of various local organizations − including Three Rivers Community Action in Faribault − who were there seeking answers to some of the problems their clients have been facing because of the crisis.
On that list of clients are Ty and Cheryl Newland. They know first-hand how the propane crisis has affected folks who live in the rural parts of southern Minnesota.
The Newlands lost their house in Northfield nearly two years ago and found a place to rent in Montgomery. It was a way for the retired Navy veteran and his disabled wife (multiple sclerosis) to start again and try to rebuild their lives.
The Newlands had a pole barn in which Ty was preparing to start up his wood-working business and Cheryl, who could no longer work at Northfield Hospital due to her multiple sclerosis, could focus on her passion of rescuing dogs and finding them good homes. The road to recovery was in site.
"We went from almost a six-figure existence to practically nothing," Cheryl said. "I couldn't work anymore and lost my job. We lost everything."
Then the propane shortage hit, driving prices up to quadruple what they were a year before. For the Newlands, who were just making ends meet, it was a blow to their plans of making any kind of comeback.
The propane crisis meant the Newlands couldn't afford to heat both the house and the pole barn because of the higher prices. The pole barn was the obvious choice not to heat, but that came with ramifications, including moving the 11 rescue dogs inside.
"We just can't keep up with the propane," said Cheryl, who said the couple was able to get some relief now with a one-time Veteran's Administration grant because of Ty's service. "We haven't been able to start his business because the pole barn has no heat. With the prices up, we just can't keep up."
Steven Read knows all about heating pole barns and out buildings on Shepherd's Way Farms. Not only was he concerned about the rising costs, which affect his bottom line, but also how quickly things have changed in terms of pricing during the crisis.
He said that at the beginning of December, the price of propane was $1.42 a gallon. At the end of December, it was $2.22 a gallon. Then, he said, it skyrocketed.
"I called my propane supplier and they said it would be $3.31 a gallon (a couple of weeks ago)," said Read, who paid more than $20,000 last year for fuel, but is looking at a much larger bill this year. "They also told me I would need to bring a check when I ordered. In two days, it was $4.20 a gallon. You don't expect to pay three- to four-times more for fuel."
Rothman said the Minnesota Department of Commerce is keeping a close watch on propane companies and distributors in the state for price gouging and other improprieties.
"Steve, we've heard your story hundreds of times already on our hotline, which has now reached 3,000 calls," Rothman said. "I sent a letter to the propane industry saying we are going to keep an eye on you. We are going to enforce the law. We want to send a message that you can't price gouge."
The crisis has put in jeopardy thousands of Minnesotans who rely on propane to heat their homes and farm operations during this extremely cold winter.
With an eye to the future, Read wondered aloud if there would be a solution by harvest time.
"It doesn't fill me with confidence that we'll have this figured out by spring," he said. "It's only eight months to harvest."
According to the U.S. Energy Information Administration's weekly report for Minnesota, the average residential price was $3.967 a gallon the first week of February. That compared to $2.322 per gallon the first week of January and $4.610 the last week of January.