The good news: nobody was badly hurt.
But there was plenty of bad news to go with it after Thursday's storm in Northfield, Rice County and southern Minnesota. Businesses were destroyed, farm buildings were flattened, homes were damaged and trees were scattered after a tornadic storm passed through.
On Saturday, the National Weather Service said it now believes 10 tornadoes were created throughout the duration of the storm, including ones that impacted Morristown, Faribault and Northfield.
"Some of the damage is consistent with wind speeds of at least 80 miles per hour, and likely in a few spots it was over 100," said National Weather Service Meteorologist Tom Hultquist.
The storm impacted southeastern Northfield and the outskirts of town most heavily. Small farms were especially vulnerable. 
Bill Bongers looked at the ruins Friday of a barn he had known since childhood. At his property, just south of Northfield, off Hwy. 3, the barn, three machine sheds and more than a dozen trees had been bowled over.
"I've been here since I was 4. I moved to the city for a while, but bought the place from my parents in 1991," he said. "I've never seen anything like this."
Bongers was fortunate that all of his cows and bulls survived the weather. But the facilities were not so lucky. His house and shop escaped relatively unscathed, but all the other structures were totaled.
The barn, about 120 years old, held sentimental, but also functional value to him.
"I still used it all the time," he said.
He had invested in each of the roofs of the various buildings, hoping to make them last, so his kids could take over.
"I didn't want to turn my farm over to my kids someday with a bunch of dilapidated buildings," he said. "Now it's just gone."
Bongers can perhaps be thankful he was unharmed in the storm. He had just returned to his shop when it blasted through. He had to hold the door to the building to ensure it didn't blow open; and when he stepped outside, he saw parts from the various buildings splayed all around the yard.
"It all just came so fast," he said.
Meteorologist Hultquist said most severe storms in southern Minnesota move around 30-35 miles per hour. The storm Thursday was clocked around 60-70 mph.
"That might have surprised some people," he said.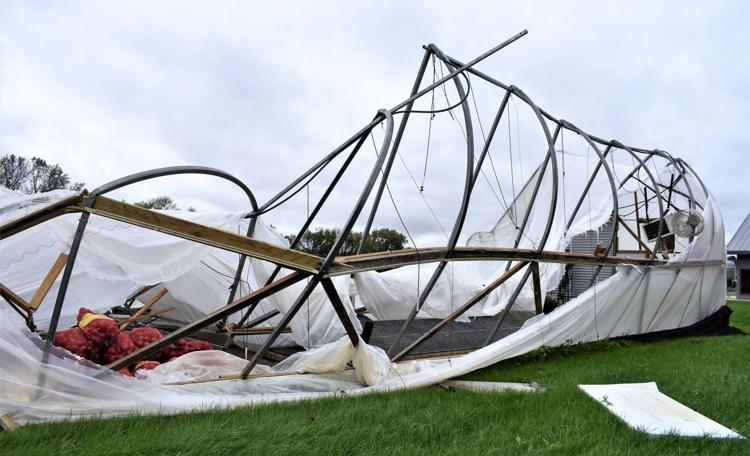 They were surprised at the southern edge of Northfield, at Seeds Farm, when the front moved in. Workers made their way to the property's barn to take shelter.
"It was terrifying for them," said Seeds owner Becca Carlson, who was in Webster at the time.
The next day revealed that the small farm's greenhouse and several manure houses were decimated.
"We're really not sure yet the extent of the damage," Becca said. "We survived. There's just a lot more work to do."
Down the road, Becca's parents, Nancy and Greg Carlson, we're at their home at the top of a hill, off 110th Street. Their residence held sturdy, but their long driveway was littered with fallen trees.
"We had a overhang of trees that were all knocked down," Nancy said.
The two were in the house when the storm was at its worst.
"I've never seen anything like it," Greg said. "I've never seen that kind of rain and wind. It was completely horizontal."
Northfield Cemetery, meanwhile, had large trees completely uprooted, lying between monuments and ripping up the fence surrounding the graveyard.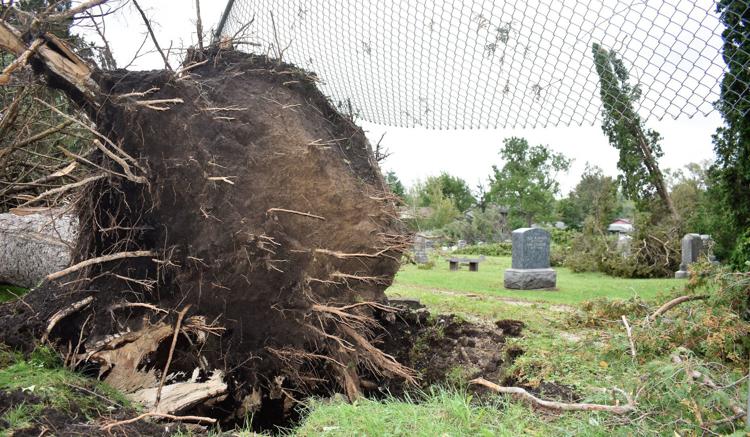 Throughout several neighborhoods, trees were splayed, power lines were down and homes were damaged.
"The city has received significant damage from storms last night," Public Works Director Dave Bennett said Friday. "The southeast part of the city has received the most damage. The Public Works department has begun cleanup."
Schools were closed Friday in Northfield, as roads were cleared off and repairs were made. Compost sites were opened up throughout the weekend in Northfield and Faribault to ensure residents had somewhere to go with all their debris. On Tuesday, Northfield closed its regular compost site and opened a new one at Babcock Park, which will be open seven days per week until further notice.
Rice County, Northfield and Faribault all declared states of emergency to ensure repairs could be made immediately and to take a step toward potential state and federal disaster relief.