At 9:30 p.m. every Thursday for the last 28 months, Ricki Ciolfi has opened the oven door.
She gets to baking as the orders start flooding in. Her husband, Jason Ciolfi, waits to be handed a box (or several) of freshly made treats and heads out the door. He arrives at whatever Northfield or Dundas destination texted in, often a college dorm but increasingly elsewhere in the community, and another insatiable late-night cookie craving is satisfied.
It's Night Owl Bake Shop, the little home business that has been delighting cookie lovers in Northfield since September of 2016. What started as an almost secret operation has quickly expanded in popularity.
"We've had over 4,000 cookies delivered and made much more than that (including for events and festivals)," Ricki said. "I don't really see any reason to stop for a bit or for — I don't even know. I think we'll keep going. As long as it's fun."
Ricki was born and raised in Northfield, but left town after high school when she met Jason in Boston. The two got hitched, bought a home and started a family in New England. 
It was there, influenced by Jason's mother, Ruth, where Ricki discovered a love for baking. 
Ricki took a liking to Ruth's chocolate chip recipe, and her mother-in-law bought her a Kitchen Aid mixer as a wedding gift. Ricki followed Ruth's recipe and made some cookies of her own, and then she just kept going.
"It was always just a hobby," she said. "(Jason) really enjoyed it and then people at work would go crazy for it, so I started doing custom flavors and then the multi-level cakes. People would say "You should open a bakery," and I was like 'That doesn't really work; that takes a lot of time and investment."
In the Boston area, Ricki worked several restaurant jobs, including a major beer garden in the city, some fine dining and then Rainforest Cafe. It was really the craft, not the trade, that always inspired her.
"Everything (Ricki does) has that little flare to it that sets it apart," Jason said of his wife. "She was known for her art in high school and did graphic design at Savannah (College of Art and Design) and it translated to everything she does now. She can't do it halfway."
The couple has four kids — Jackson, 18, Reese, 16, and twins Rachel and Jesse, 5. When the twins were born, they decided they needed a five-bedroom home, and they knew it would be easier to find in Northfield than in Boston.
So the family headed back to Ricki's hometown about five years ago. A couple years later, the twins a little older, Ricki decided to bring an idea she had some 15 years ago to life.
"I had the idea for a cookie delivery while in Boston. I feel like someone had said something about a college town out there having one, and I thought 'Boy, that would work in Northfield, because of the two colleges, the late nights and it's so isolated,'" she said.
Jason works an overnight job in the first four days of the week, and stays up late on the weekends to maintain a regular schedule. That made his the perfect (and a willing) candidate to deliver the cookies. Ricki had developed quite a skill for baking and had tried and true recipes to boot, making her the perfect candidate to bake the cookies.
The couple started things out by simply pinning up some fliers around the Carleton College campus. Two days later, it all began.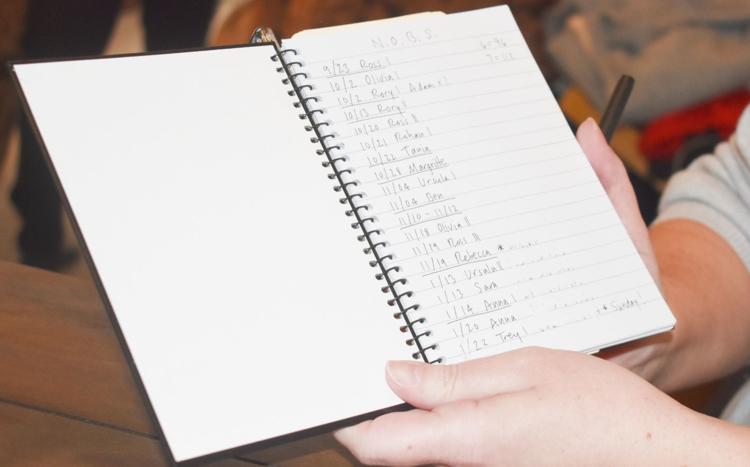 "That first night, I don't even know what time, the phone rang. I'm like 'Oh my God, oh my God, someone called.' Shoutout to Ross, our first customer," Ricki said. "And from there, it just took off. We had calls every night. We haven't had a single weekend without orders."
There also hasn't been a single weekend the Ciolfis haven't delivered. In over two years of business, Night Owl has opened for business every weekend and delivered every order. The two are used to being up late, and they're homebodies anyway, so the gig fits them perfectly.
It's not a huge profit-maker, though it does well enough, Ricki and Jason said, but they continue doing it anyway, even with four kids running around the house, because they enjoy it. They're proud of what they can provide.
"I just like the happiness it gives people," Ricki said.