Many around Rice County had work to do after the Sept. 20 storms passed through the area.
Some had trees knocked over in their yards, forcing the chainsaws to come out. Others had damage to siding, roofs and windows, all requiring immediate fixes. And the most unlucky saw their homes flattened entirely, meaning life will be on hold as insurance companies are contacted and construction crews are brought in.
But for farms in the area, devastated across acres and acres of land, the extent of the damage is difficult to even quantify, never mind address.
"The interesting part is that many insurance policies do not carry debris insurance," said Kim Halvorson, owner of Halvorson Farms, a large turkey farm just east of Morristown. "I carry it, but it only covers $5,000. Our debris cleanup is going to effectuate probably 10 times that."
And that's just the start.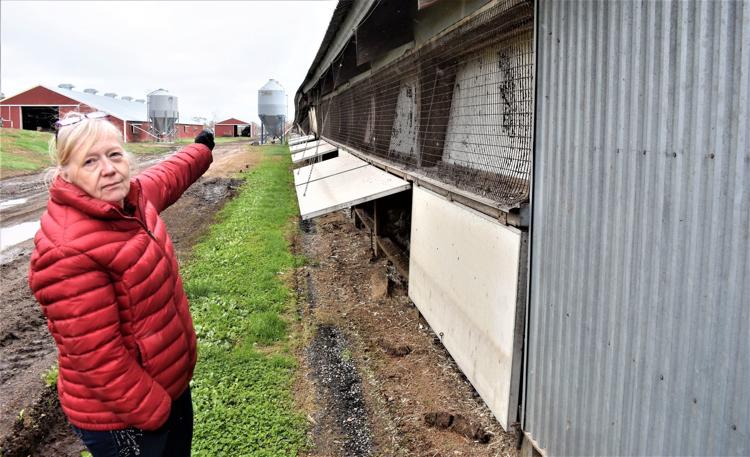 Halvorson lost one of her two adult turkey barns, which typically holds about 11,000 birds. That and another destroyed barn add up to about $1.4 million in damage.
Inside the adult turkey barn, about 15 percent of the flock was lost. A bout 5 percent of the flock was lost in the other adult barn, which was lifted off its foundation but remains stable for now.
By early Friday morning, the day after the storm, Halvorson had Jennie-O Turkey Store, of Faribault, out at the property, loading the barn-less turkeys onto trucks. It was earlier than planned, and Halvorson had to take a loss, selling the birds before full maturation. The destruction of the adult barn also meant her flock of baby birds had to be sold early.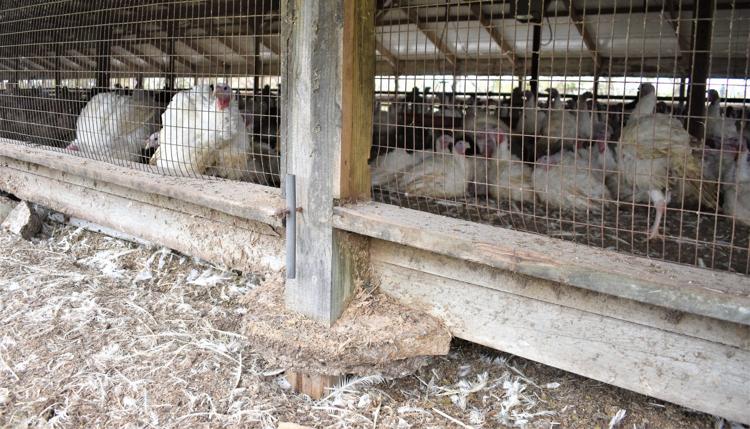 At this point, Halvorson has no idea just how much the storms will cost her and her son's operation. The barns will be covered partially by insurance, as will some of the turkeys. But farmers don't generally insure for replacement; they insure for median value. So Halvorson Farms will takes losses from the direct damage. And she will likely continue to take losses, as she awaits construction of new barns.
Halvorson is keeping up the typical self-sufficient farmer attitude, but for the moment, she's being pulled every which way.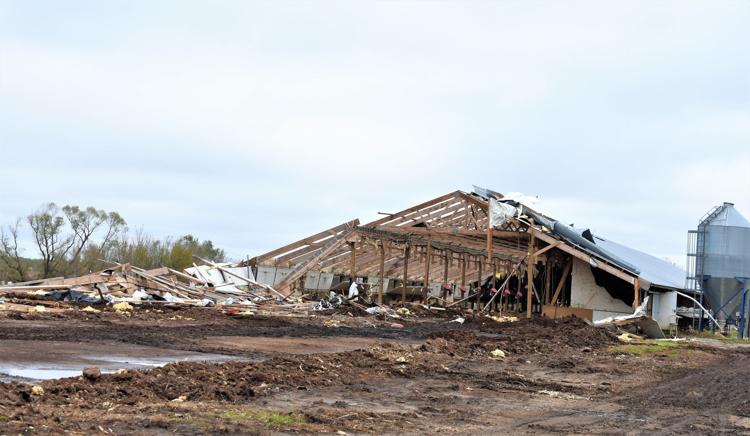 "We will get through it, and we are already looking at rebuild and reconstruction costs," she said. "But everything is so far out there that it can be difficult to be all the places you need to be at the same time."
According to University of Minnesota Rice County Extension Educator Claire LaCanne, the impact on area crop farmers is just as brutal. The storm came add a bad time, just before many farmers would be heading into their fields for harvest.
LaCanne has taken reports of damage at more than 40 farm properties in the county.
"The farmers that were hit by the storm were hit hard," she said. "I drove around on Friday, the 21st, and saw lots of busted over corn, sweet corn flattened and beans lodging and leaning."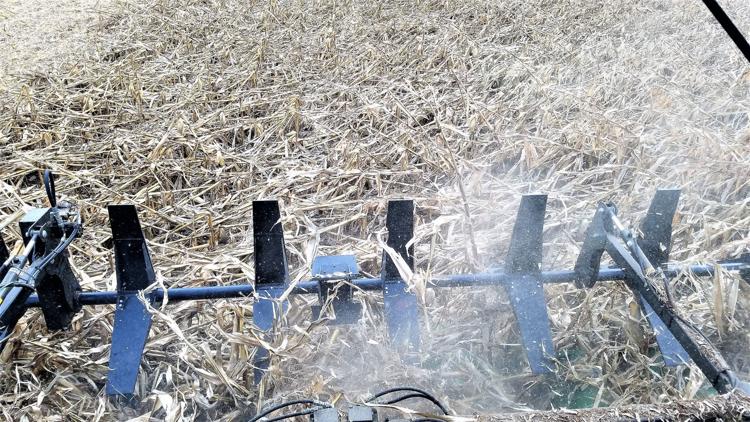 Before farmers can start considering what damage is and isn't covered, they need to worry about salvaging the crops they still have.
"I'm hearing a lot of issues with harvesting," LaCanne said. "The beans are coming out OK; it's just getting them at the right angle. Corn took a big loss in general. People that had busted over corn are having a hard time getting it. They're harvesting at 1 mile per hour, compared to 4-4.5 mph usually. And they're losing a bunch of corn that they can't even get to."
LaCanne believes several local operations will take hits this season. And the weather since the storm hasn't helped.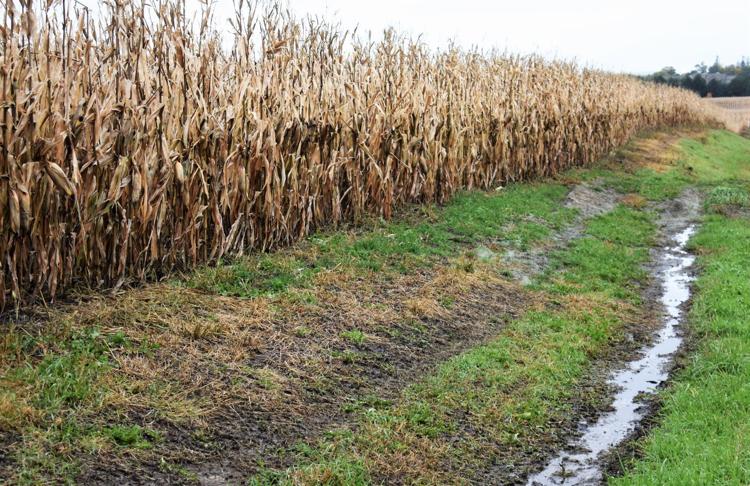 "There will be yield losses; It's really difficult to assess losses before having the total yield numbers at harvest," she said. "There are other things that can affect it, too. Now, with rainy weather, there can be mold and contamination of the crops that are still good. And then there is also going to be yield losses, because some of the corn will start germinating (meaning it's too late to go to market)."
Another major problem for crop farmers is the debris in their fields. Crops are bent over, meaning the equipment needs to ride low, creating greater risk it will contact hidden debris. Brian Peterson said an extra man will be out with the combines in their fields, checking for debris and moving it out before the large machines move through.
The Rice County Emergency Management, meanwhile, is seeking volunteers to form teams to walk farm fields for those farmers who may need it. Director Jennifer Hauer-Schmitz noted, though, that for the county's last volunteer drive, Oct. 6, only four volunteers showed up.
"We're going to be actively recruiting," she said.
On Tuesday, some potential influencers met at a Far-Gaze barn — one of the few still standing. Local legislators — Rep. David Bly, DFL-Northfield, Rep. Brian Daniels, R-Faribault, and Sen. Rich Draheim, R-Madison Lake — were joined by Hauer-Schmitz, LaCanne, Northfield Mayor Rhonda Pownell, some local farmers and Minnesota Department of Agriculture Commissioner Dave Frederickson.
Frederickson has been doing this work for decades. He's seen many farms affected by natural disaster in his time, but what he saw at Far-Gaze astounded him.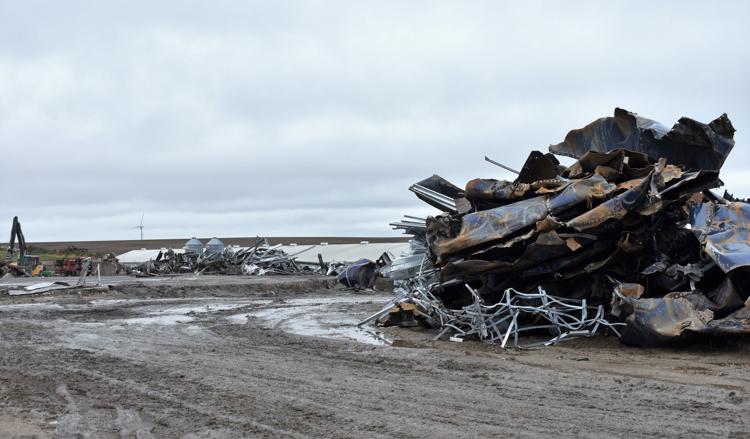 "This is really significant here with the Peterson operation; I knew it was bad, but I didn't know how bad it was," he said.
The common message from Frederickson, Hauer-Schmitz and the elected officials in the room was to "document, document, document" and let policy leaders know about the specifics.
Hauer-Schmitz is in the process of collecting damage information from around the county and will report to the state, in hopes of receiving disaster assistance. So hearing anecdotes, like the one shared by Brian Peterson, whose insurance agent estimated some $5 million in damage from his agricultural clients alone, is helpful.
The Minnesota Legislature set aside funds in 2014 to aid counties in the state that experience significant damage from natural disasters in cases where the state as a whole doesn't meet the threshold for federal relief.
To meet the Presidential Disaster Declaration, uninsured damage across the state would need to reach at least $7.7 million; damage from the Sept. 20 storms won't likely come close to that. To meet the State Disaster Declaration, Rice County just needs around $120,000 damage to "public infrastructure," which it will easily meet.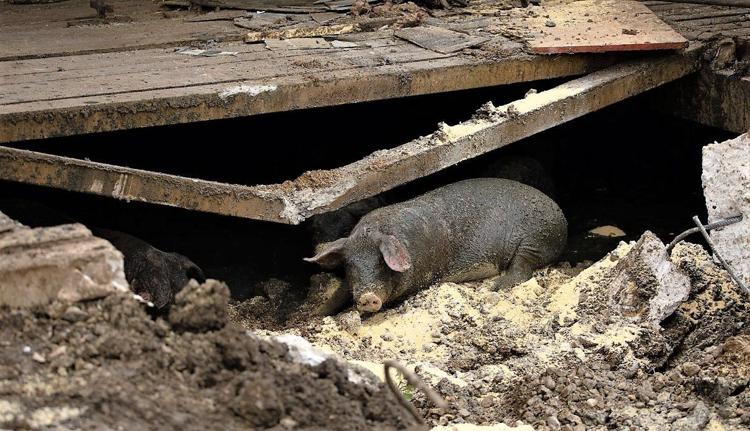 But Hauer-Schmitz fears that the "public infrastructure" language means private property owners in the county will not be eligible to receive the state funding. That means anything on private properties not covered by insurance is probably not going to get help from elsewhere, which is especially bad news for the farmers, who are generally not fully insured.
Frederickson said he will seek grant opportunities for area farmers, but wasn't hopeful.
"We at the department have some resources available, but not enough to make people whole," he said. "We'll partner with local banks, the Rural Finance Authority possibly, for some low interest loans. But what farmers need today is some help; they don't need more loans; they need assistance."