Bruce Peterson was prepared, but he certainly wasn't expecting this.
By the time Thursday night's storm rolled through Far-Gaze Farms, which Bruce runs with his brothers Brian and Chris, he was ready and his family was safe in their home's basement.
From there, he heard what he described as popping in his garage for the minute the storm moved through his property. But when he emerged from the basement, the damage was much worse than it initially sounded.
"I didn't really hear any of — you would think you would have heard more noise," Bruce Peterson said. "It probably all happened in less than a minute. The grain bins all went along with the tower for the grain leg and that took out the shed and the shop and the hog barn."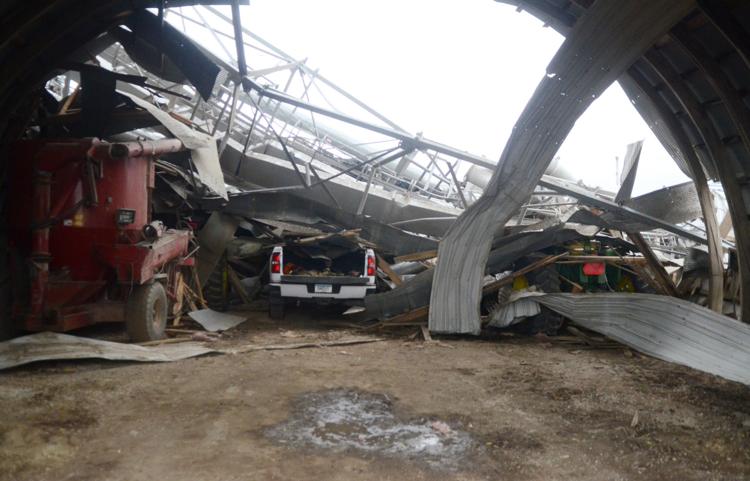 Everyone at the farm is safe, and outside of the roof of Bruce's garage being torn off by a flying piece of the grain bin, all houses on the property escaped unscathed.
As for the farming equipment, the total damage equates to the loss of 11 grain bins, a grain silo, a grain dryer, the farm's shop, shed and one of its two hog barns, while the second hog barn and the surrounding equipment escaped without a scratch.
"We're kind of getting ready to harvest and all our grain storage and drying equipment is completely gone," Bruce Peterson said. "We've got to come up with a plan for that, too, on how to handle all our grain."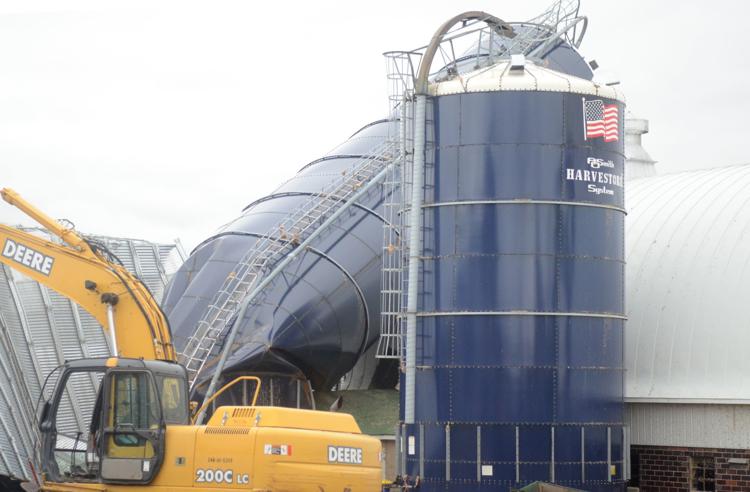 Peterson said there's no way the cleanup will be finished in time for the soon-arriving harvest season, especially considering the type of equipment required, although he does hope enough progress is made to clear a path to the fuel barrels to try and salvage the harvest season.
"That silo, I don't even know — that's specialized equipment to handle that big stuff," Bruce Peterson said. "That grain bin is a 75-foot diameter bin that was 66 feet tall. That'll need some big stuff."
Far-Gaze Farms is a several-thousand-acre operation, growing a variety of crops and raising large amounts of livestock. According to Northfield Police Chief Monte Nelson, around 40-50 people were at the farm Thursday evening, attempting to locate and move the animals safely.
The end of growing season is nigh in the area, and farmers are now looking toward the fall harvest. Far-Gaze has its work cut out.