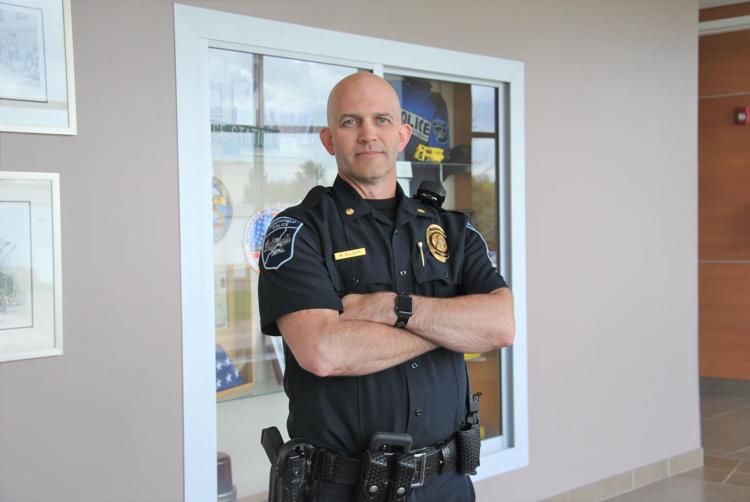 After more than 20 years with the Bloomington Police Department and a four-year stint as Prior Lake police chief, new Northfield Police Department Deputy Chief of Police Mark Elliott said his No. 1 rule as an officer remains the same: Treat others the way you would want to be treated.
"The overarching one is the Golden Rule: You want to treat people the way you want to be treated or you want people to be treated the way you want your mother to be treated," he said.
Elliott, who has been in the position for a few weeks, was sworn in May 7 by the Northfield City Council.
A Minnesota native, he started his law enforcement career with a two-year stretch as a community service officer in Brooklyn Park. He followed that with a 22-year tenure as a Bloomington police officer, working his way from an officer to detective before becoming a sergeant. He finished his career there as a commander leading the Professional Standards Division in 2015.
Elliott served as Prior Lake police chief for four years before accepting the job in Northfield.
Although Prior Lake is considerably smaller than Bloomington, He led a busy department with an often-used lake, 700-room hotel and casino.
So far, Elliott has been learning his role handling the day-to-day operations of Northfield police.
To him, Northfield was an attractive place to continue his career.
"I had spent some time in the community, and I really liked kind of the sense of community here," he said. "That feel of a close-knit community. It's a beautiful city, for one. The historic nature of the city and everything is good. The close working relationship the Police Department has with the community, with other stakeholders in the community, with the colleges. It just seemed to be a really good fit."
To Elliott, Northfield's status as a town of more than 20,000 residents makes it a destination community.
"Being able to provide police services for that many people that are here really requires partnership with the community," he said.
Police work provides Elliott a variety of tasks each day, something he relishes.
"One big reason that I think a lot of officers get into it is that they want a job that's a little different every day," he said. "They want a different challenge each day, and they come into work each day not knowing what to expect.
"That variety is really appealing."
Northfield Chief of Police Monte Nelson said Elliott's experience, training, dedication, approach to the profession and reputation made him stand out. The presence at the swearing-in ceremony of former Prior Lake and Bloomington co-workers and Elliott's family also spoke volumes of the new hire to Nelson.
"It says a little bit about the department and also about the person we hired," Nelson said. "And so he is already a good addition."