Old faces and new gather each week Thursday outside the Lonsdale American Legion, where the Lonsdale Farmers Market was revived for the 2019 season.
Joe Bisek of New Prague, who sells Bisek Bees homemade products, joined the Farmers Market in Lonsdale for the first time this season and plans to become a regular vendor. He sells about 15 flavors of jams; they're some of his most popular products. Apart from the expected jam flavors like strawberry and raspberry, Thai pepper is a hit with customers. Lip balms, bath salts and gift packets are also available for purchase as well as honey sticks with unique flavors like root beer and green apple.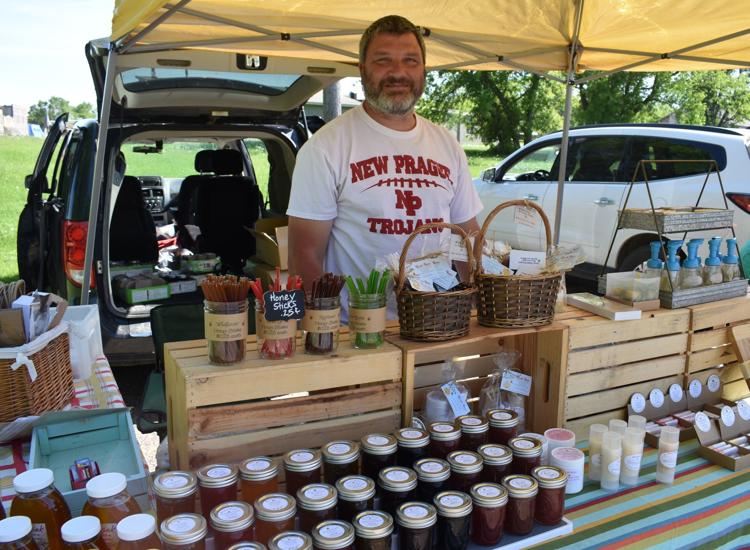 Sugar Mama Bakery and Cakes by Brenda both sell products that satisfy the sweet tooth, but while caramel rolls and cupcakes sell fast for Sugar Mama customers, Brenda Hergenroder is known for her cream canoes and whoopie pies. She's made her cakes for graduation parties and wedding receptions, but the Lonsdale Farmers Market is a first for Hergenroder, who also makes keto-friendly treats for those who like to stay away from sugar and carbs.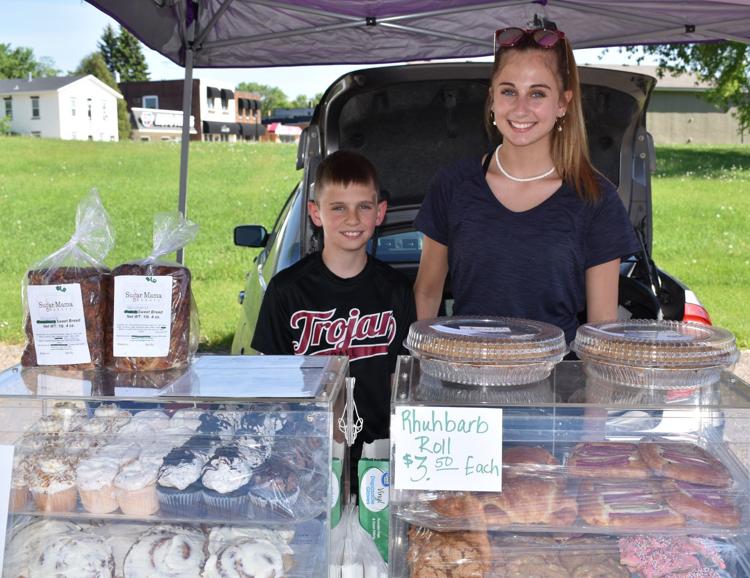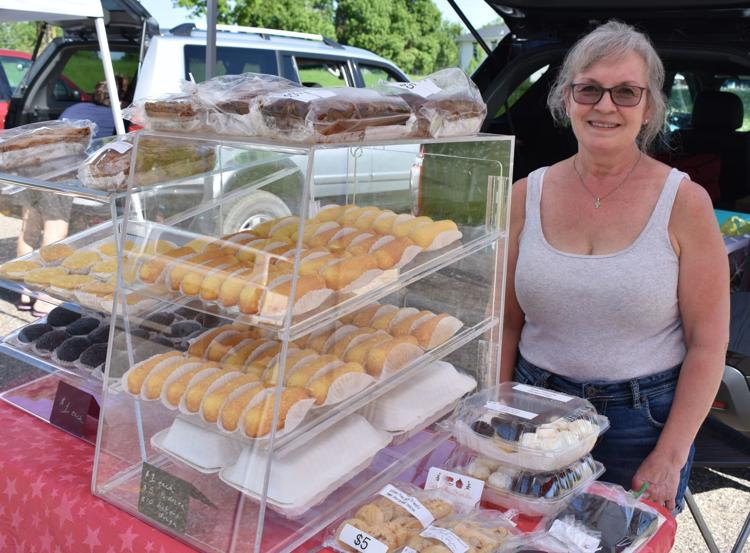 Mary Rah, a retired nurse who wanted to promote the Lonsdale Farmers Market, set up her own stand this year full of homemade treats and other products. She's baked kolacky with prune, poppy seed, raspberry, apple and apricot filling. Apart from that, she also sells a variety of sewn products like scrunchies, burp cloths, toddler bibs and napkin holders. She's made warming bowls that make it easier to handle hot bowls of soup (or cold bowls of ice cream, according to her grandchildren) and freeze pop cozies that keep children's hands warm as they devour flavored ice.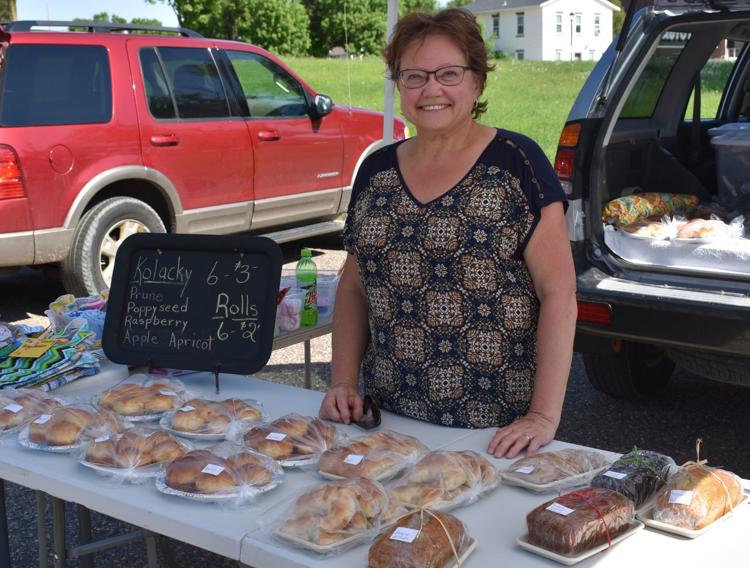 "It's fun because you can be creative," said Rah, who plans to sell her products at the Farmers Market each week this season.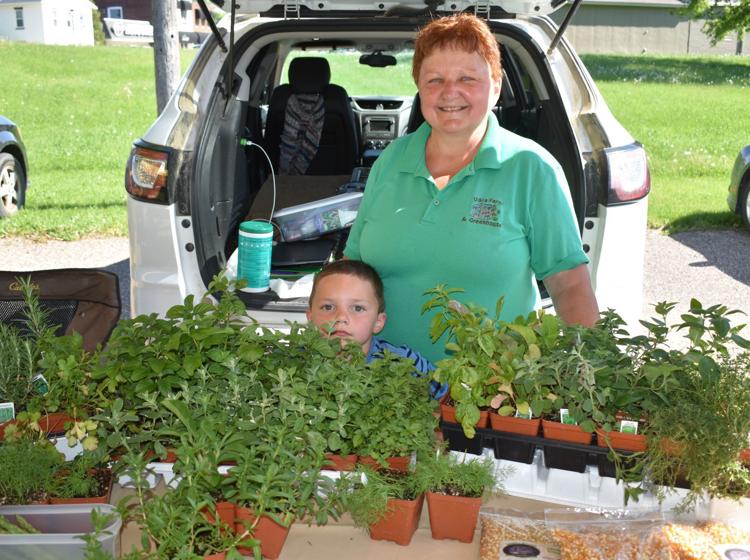 Dori Vikla of Vikla Farm & Greenhouse returns to the Lonsdale Farmers Market with asparagus, perennials, hanging baskets, and a wide selection of herbs. Her fruit products, especially strawberries and watermelon, draw customers to her stand above anything else. Next week, her tomatoes are ready to sell.
Gordon and Nancy Frederickson, new to Lonsdale, meet a different kind of need at the local Farmers Market. Instead of selling edible products, they sell books that help children understand how farmers help put food on the table.
With a goal to preserve farm heritage, Gordon wrote a number of children's picture books, the most popular being the "If I Were a Farmer" series. In each book in this series, the child character tells his or her pet what it would be like to be a farmer. A couple of these books illustrate both modern and old-style farming techniques, and one is told in both English and Spanish. With glossaries in the back, even adults can learn more about farming terminology.
The Fredericksons also sell adult non-fiction books with full color illustrations. Nancy took contemporary photos and located older photographs, some of them from Lonsdale, for these books on farming.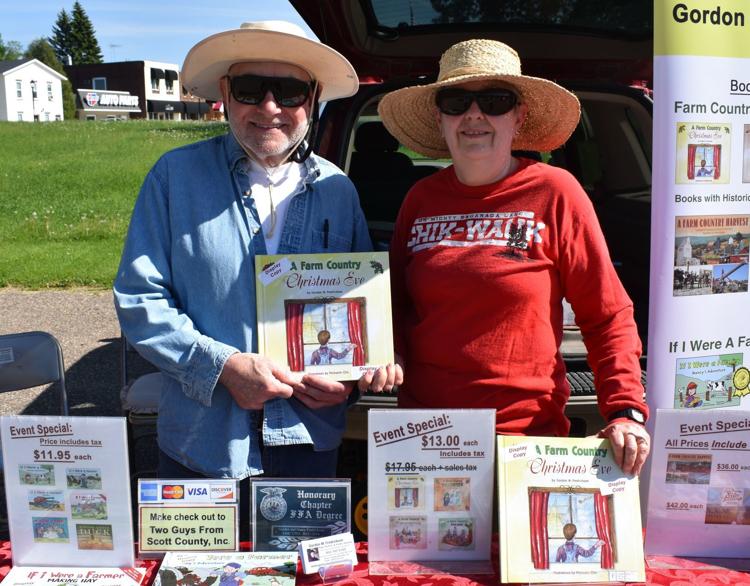 The Lonsdale Farmers market started May 2 and ends Oct. 3, so there's still plenty of time to check out the offerings and become a vendor. The market is 4 to 8 p.m. every Thursday in the American Legion parking lot and moves inside in the event of rain.