Carnival rides, live music and many other activities for the whole family to enjoy will return to the Janesville Hay Daze celebration.
Janesville's annual festival runs June 10-16. The celebration will include a variety of events throughout the week.
"We're just hoping the weather holds out," organizer Laura Seys said. "Come check out the bands, carnival and good food. It's fun for everyone."
Hay Daze will start off Monday, June 10 with the Simply Saved Fashion Show at 6:30 p.m.
The fashion show will be at Trinity Lutheran Church Discipling Center and will feature a style show, food and entertainment. Tickets are $5 and can be purchased at Simple Saved Thrift Store or Trinity Church office.
Tuesday will be Scotch Doubles Bowling Tournament at Janesville Bowl. The tournament will be at 6:30 p.m. and is $30 a couple. To sign up or for more information, contact Dan Seys at 507-234-5247.
The excitement of the week continues into Wednesday, June 12 at 1 p.m. with a Janesville Public Library event.
"Molly the Mouse" is a play that will be presented in the Trinity Lutheran School gym and presented by CLIMB Theatre. This is free to all ages, but there is a registration required with the library that can be reached at 507-234-6605.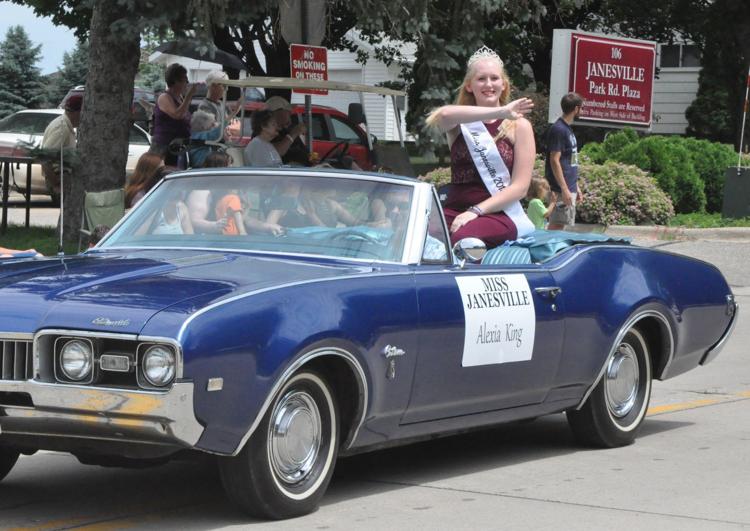 Returning is the Miss Janesville and Little Miss Janesville pageant in the Janesville-Waldorf-Pemberton auditorium at 7 p.m. Thursday. Alexia King, 2018's Miss Janesville, will help crown the 2019 winner.
As the weekend approaches days and evenings will get busier with more events and activities.
Friday events will start at 9 a.m. with a golf tournament and go until 12:30 a.m. with bands for people to enjoy. This will also be the start of the food stands and carnival rides that will be out through Sunday.
Crescent City Amusements Carnival rides will go from 6 p.m. to 11 p.m. on Friday, noon to 11 p.m. on Saturday and on Sunday 1 p.m. to 6 p.m. Arm bands will be from 1-5 p.m. or 6-10 p.m.
On Main Street on the Guardian Energy Stage, Generation Gap will start the night off at 7:30 p.m. and IV Play will end the night.
Saturday has even more events to offer, starting with the Hay Daze fun run/walk in the JWP Athletic Complex. The 1K kids race begins at 8 a.m. and the 5K run/walk will begin at 8:30 a.m.
The kickball tournament will make a comeback to this years celebration if there are enough teams signed up to participate. To sign up or for more information, contact Roger Gonsior at 507-292-4824. There will also be a volleyball tournament and a junior and adult bean bag doubles tournament.
At the Janesville Nursing Home, there will be a kiddie carnival and turtle races.
"It's a lot of fun to be quite honest and our staff really enjoy it …," Janesville Nursing Home Administrator Pete Madel said.
Last year he said there were about 70 turtles in the race and each year it is growing. Before the race, there is a pre-show where two people walk around talking to the spectators about the race. This year, if everything goes according to plan, the turtle race will be live streamed. There will be a link on the nursing home website: www.janesvillenursinghome.com.
New this year is the Beach Ball Bus, which will be next to JWP from noon to 5 p.m. People can stop by and guess the number of beach balls in the bus for free. Also new this year is face painting at a food stand and shirts for sale by the Janesville Rotary.
"Family Tradition"will be on the Guardian Energy Stage at 6 p.m. and "Some $#!tty Cover Band" will take over at 8:30 p.m. to end Saturday night.
The final day of Hay Daze will be Sunday, June 16 and events will start at 10 a.m. The annual parade will start at 1 p.m. There will be a Community Church Service Bingo, a kids pedal pull and antique tractor display to close out the celebration.