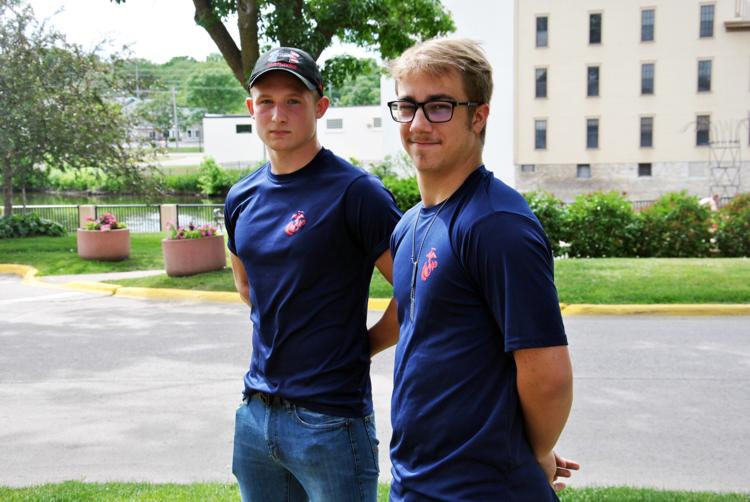 Less than one month before they were scheduled to be sent to San Diego for Marine basic training, the look on the faces of recent Northfield High School graduates Nathan Schmidtke and Joshua Roethle was indicative of the excitement and pride they felt in their coming duty.
The teenagers, along with fellow NHS graduates Zachariah Rose and Ian Payne, will embark on 13 weeks of basic training in San Diego, a process they know will test their will and mold them into Marines.
Schmidtke and Roethle leave July 8. Payne has left, with Rose's expected departure Sept. 16.
"It's one of the tougher boot camps to get through," Roethle said.
"It's a lot of mental games," Schmidtke said. "It's a lot of physical fitness. You gotta be physically fit, but there's a lot of mental games that go on there, and a lot of people say that's the toughest part to get through."
The four graduates have events at least once a month in Owatonna, operated by military recruiters, to gain a better taste of what boot camp will be like.
Rose decided to join the Marines after deciding he did not want to go to college. He also has an extensive family military history. His father, Jeff Rose; uncle, Josh Rose; and grandfather, Bill Rose, served in the Marines, and another uncle, Adam Rose, was in the Navy. He was also attracted to the Marines because of its core values of selfless commitment and completing work.
"It's always been on my radar," he said.
Rose plans to be an aircraft mechanic and would enjoy being deployed to Okinawa, Japan or Hawaii.
"It should be fun," he said. "Definitely an experience."
Roethle and Schmidtke know the jobs they will have in the military. Schmidtke plans to be in intelligence, and Roethler wants to be a combat vehicle and ground ordnance repair worker.
After a 10-day stint at home following boot camp, they will attend combat training, a longer process than basic training, before learning their next steps.
"It will be a good experience," Schmidtke said. "A lot to learn."
Schmidtke and Roethle also have family members in the military. Schmidtke's brother, Ryan Schmidtke, is stationed in Cherry Point, North Carolina. Roethle's cousin, Justin McCarty, is a Marine; his grandfather, Vern McCarty, was in the Navy; and his uncle, Mike Roethle, enlisted in the Coast Guard.
Roethle's dream to be a Marine started early in elementary school. At one point, a picture of him was taken with him showing he wanted to be a Marine.
Schmidtke's desire for military service also started at a young age.
"I always thought about the military," he said. "When I was a little kid playing military with my brothers, that was fun. Once I got into high school and started looking at it, deciding between colleges or military and talking with the branches, I realized Marines is the branch for me."
Roethle and Schmidtke share a desire to be deployed and see the world. They also view the military as a way to help them in their post-military careers. Roethle wants to become better acclimated to the engineering career field so he can work on cars following his service. Schmidtke wants to gain the skills and trades he feels will make him a successful and productive member of society.
"I'm excited," Roethle said. "If I don't get deployed at some point, I'll be disappointed. I want to see some action."
"I can't wait to ship," Schmidtke said. "I can't wait to go on and move on with my life and make something of myself."
Another bond that shares the recent graduates is one thing: a desire to serve.
"I wanted to be a part of something that was a lot bigger than myself," Roethle said.
"I want to protect freedom," Schmidtke added. "The thing that makes America so special than a ton of other countries is the freedom you get. America's military is all volunteer. There's some countries where you have a mandated military service … I just want to step up, do my part and protect the country I love."